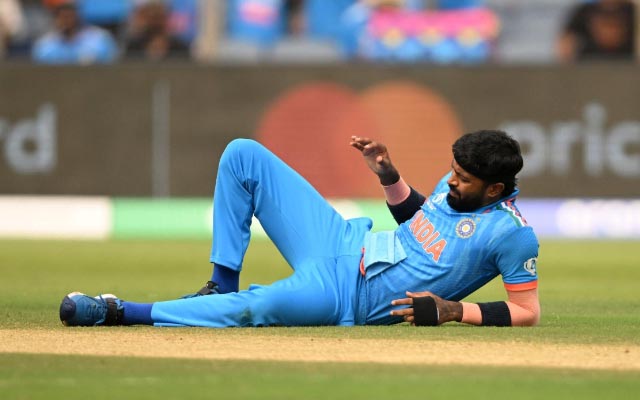 Hardik Pandya will face a minimum two-month absence from white-ball cricket due to an ankle injury, potentially sidelining him for upcoming T20Is against Australia and a series in South Africa.
Hardik Pandya faces an additional two-month absence due to an ankle injury sustained while fielding in a World Cup match against Bangladesh. According to reports from the Indian Express, Hardik is set to miss the upcoming T20I series against Australia and is expected to be sidelined for three T20Is and three ODIs in South Africa. The injury occurred as he lost balance while fielding a shot from Liton Das, leading to discomfort and subsequent assessment at the National Cricket Academy.
READ MORE | Injury Woes for Hardik Pandya Continue, Reports Indicate Prolonged Absence
The medical team is deliberating on potential surgery, amplifying Pandya's uncertainty for future matches. Two weeks ago, Hardik Pandya commenced bowling in the nets under coaches' guidance to gradually increase his pace without straining his ankle. Initially, the first three deliveries posed no issues, prompting Pandya to elevate his intensity. Unfortunately, discomfort arose during the fourth ball, prompting him to report pain in his right ankle to the support staff. Subsequent scans were scheduled by the NCA medical team for evaluation.
On an emotional note, Pandya had earlier expressed disappointment over missing the World Cup's remainder but pledged his unwavering support to the team, promising to cheer them on from afar.
Tough to digest the fact that I will miss out on the remaining part of the World Cup. I'll be with the team, in spirit, cheering them on every ball of every game. Thanks for all the wishes, the love, and the support has been incredible. This team is special and I'm sure we'll… pic.twitter.com/b05BKW0FgL

— hardik pandya (@hardikpandya7) November 4, 2023
READ MORE | India's World Cup Blow: Hardik Pandya Ruled Out, Prasidh Krishna Named Replacement
Last Updated on November 17, 2023