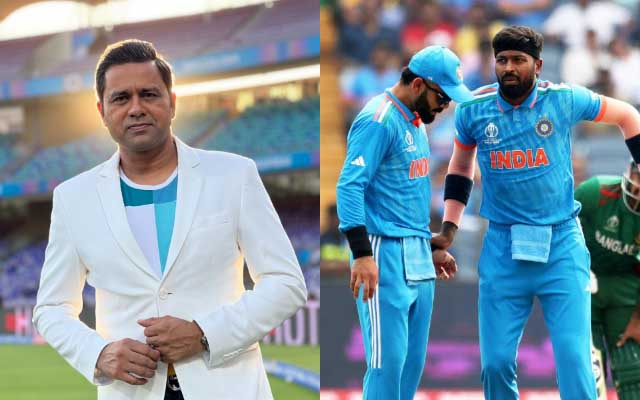 Aakash Chopra discussed the substantial challenges arising from Hardik Pandya's absence against New Zealand, as Pandya's dual role significantly impacts the team's dynamics.
While India secured a convincing victory against Bangladesh in the ICC Cricket World Cup, their triumph was marred by an unfortunate injury to all-rounder Hardik Pandya. During the first innings, Pandya suffered an ankle injury while bowling and had to receive physiotherapy on the field. Despite efforts to alleviate the pain by strapping on his left ankle, Pandya was forced to leave the field during the ninth over of his first spell.
Following the injury, Pandya underwent scans at a nearby hospital in Pune but later returned to the ground. He was seen conversing with coach Rahul Dravid and captain Rohit Sharma in the dressing room. The Board of Control for Cricket in India (BCCI) released an official statement, announcing Pandya's temporary ruling out due to the injury.
The timing of Pandya's injury adds tension to the Indian camp as they prepare to face rivals and World Cup table toppers, New Zealand, in a crucial upcoming match. Notably, India has not defeated New Zealand since the 2003 World Cup, and the injury to Pandya places additional pressure on the team as they seek to end this streak against a formidable opponent.
🚨 NEWS 🚨

Medical Update: Hardik Pandya 🔽 #CWC23 | #TeamIndiahttps://t.co/yiCbi3ng8u

— BCCI (@BCCI) October 20, 2023
Aakash Chopra, hosting JioCinema's daily sports show '#AAKASHVANI,' discussed the potential impact of Hardik Pandya's absence from the match against New Zealand in Dharamsala on October 22. Pandya, who bats in the top six and is a capable bowler, plays a unique role in the team. His injury has posed considerable challenges for India, as he is the only player with such dual capabilities, and his absence significantly impacts the team's composition and dynamics.
"You may take this with a fist of salt if you like, but the truth is if any of your batters, be it Rohit Sharma, Virat Kohli or KL Rahul, or any of your bowlers be it Mohammed Shami, (Mohammed) Siraj or (Jasprit) Bumrah has to sit out of a few matches for whatever reason, the balance of your team will not be affected. The DNA of the team won't change," said Chopra.
"But, currently there's one player in the team whose exit from the playing XI changes everything and that's Hardik Pandya. Because, Hardik bats in your top six. He's your only batsman who bowls and bowls well. So, his injury has caused a lot of problems for India," he added.
Chopra further suggested that India's options include playing Suryakumar Yadav at No. 6 and potentially bringing in Mohammed Shami, which could affect the team's balance.
How will Hardik Pandya's absence impact the Indian squad? Discover his potential replacements in today's @TooYumm presents #Aakashvani and a lot more. 🏏🔥

Click to watch: https://t.co/j1r1CT2mwT

Only on @JioCinema pic.twitter.com/faTarRXUvd

— Aakash Chopra (@cricketaakash) October 21, 2023
Last Updated on October 21, 2023