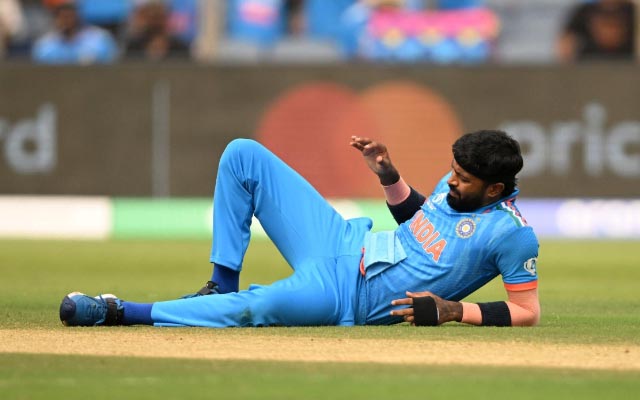 Hardik Pandya, who has been absent from action since the match against Bangladesh in Pune, is edging closer to a potential return around the semi-final stage of the 2023 World Cup.
India's star all-rounder Hardik Pandya has been out of action since the Bangladesh match in Pune. He did not accompany the team to Dharamsala and missed the England fixture in Lucknow. However, there's good news as the 30-year-old is making a promising recovery from a left ankle injury at the National Cricket Academy in Bengaluru.
According to reports from News 18 Cricketnext, Pandya has been making positive progress and has even participated in net sessions at the NCA. Sources close to the situation say he is under constant supervision by the BCCI medical team and is showing promising signs of a return, potentially around the World Cup semi-finals.
While the precise return date for Pandya remains uncertain, it's expected that the team will gradually reintegrate him into the lineup, especially now that India has secured a spot in the semi-finals. With three upcoming matches against Sri Lanka, South Africa, and the Netherlands, Pandya may rejoin the squad for the final league game against the Dutch side.
"It will be difficult to put a date on return at this stage but signs are encouraging and India's unbeaten run has certainly allowed him more time to recover and be ready for the knockouts. See, no one wants to burden Hardik with traveling at this point. He is already in Bengaluru and could well rejoin the squad there itself. Whether he plays that game or not is too early to say but the Bengaluru link-up is very much on the cards because that game would mean no travel also," said the source.
In Hardik Pandya's absence, India had to rely on specialist bowlers in their recent matches, lacking the flexibility of an additional bowling option. With Pandya's imminent return, the team management faces a pleasant dilemma of plenty.
Bowling coach Paras Mhambrey, at the ICC mixed zone after the England game, mentioned that the medical team is overseeing Pandya's progress, and they hope to provide an update in the next few days.
India remains undefeated in the World Cup, led by Rohit Sharma. They currently top the points table with 12 points, followed by South Africa with 10 points, and New Zealand and Australia with eight points each.
India is already in the semi-finals, and the remaining matches will determine their final position in the table and their semi-final opponent.
Last Updated on October 30, 2023