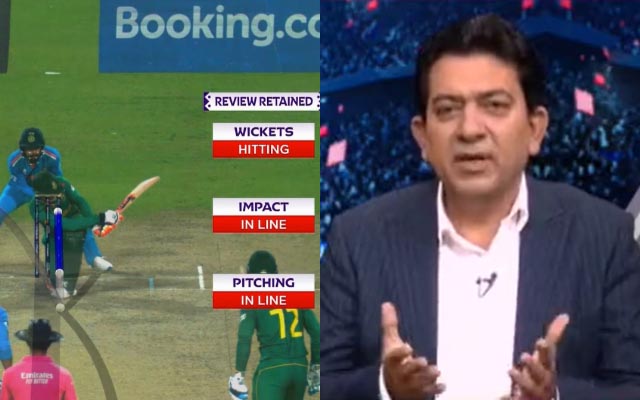 Former Pakistan cricketer Hasan Raza has stirred controversy by claiming that India is manipulating the Decision Review System (DRS) to secure favorable decisions for their players.
Hasan Raza, previously mocked for his unusual claim that India used a 'different ball' in the 2023 World Cup, has now alleged that India is tampering with the Decision Review System (DRS) to gain favorable decisions for their players. Raza, who played 7 Tests and 16 ODIs for Pakistan, made this assertion following India's significant 302-run victory over South Africa at Eden Gardens in Kolkata. He cited a specific incident where he questioned the ball's trajectory and impact.
Raza firmly believes that DRS manipulation is not a one-time occurrence and has affected multiple matches during the World Cup, highlighting the concept of home advantage and conditions.
"How can a ball that has been pitched on the leg stump by a left-arm spinner can turn towards the middle stump? It was Impact in line, the ball was headed towards leg stump. I want this to be checked," Raza said when speaking on ABN News.
"DRS is being manipulated. This isn't the first time that it has happened. I will bring Pakistan into this discussion. Their match was so close against South Africa. Nobody apologized for that, it didn't go in the favour of Pakistan. This is what home advantage, home conditions is all about," he added.
Earlier, Hasan Raza faced criticism for his unfounded claim that Indian bowlers use a different ball, allowing them to generate exceptional seam and swing.
READ MORE | Hasan Raza Raises Concerns Over Ball Handling in India's ODI World Cup 2023 Matches
Pakistan Cricket legend Wasim Akram had strongly rebuked those supporting these allegations on social media. Akram explained the ball selection process, stating that an umpire brings 12 balls, with both teams selecting their preferred two balls. This choice occurs with numerous witnesses and officials present. Akram stressed that the process is transparent and doesn't favor any team.
READ MORE | Wasim Akram Dismisses Allegations of Foul Play Regarding Indian Bowlers and Balls in ICC World Cup 2023
Last Updated on November 6, 2023