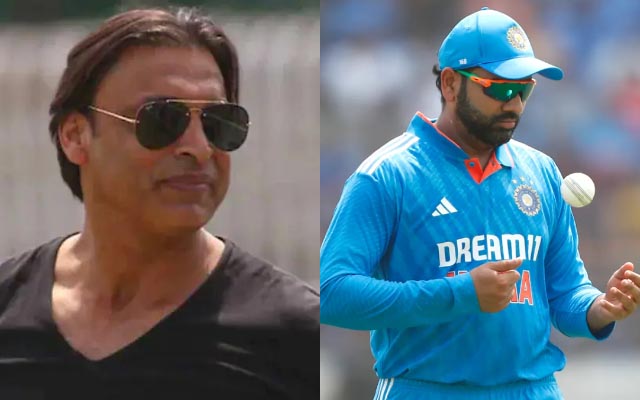 Former Pakistan fast bowler Shoaib Akhtar, known for his candid commentary, provided his perspective on Rohit Sharma's captaincy, suggesting that he tends to feel pressure in high-stakes situations.
When speaking to RevSportz, Akhtar stated that Rohit Sharma should not have assumed the leadership role at this time. He acknowledged Sharma's talent as a batsman but expressed the opinion that he may not be ideally suited for captaincy. Akhtar also emphasized the need for Sharma to enhance his leadership skills and his ability to manage high-pressure situations.
"Rohit Sharma is a great guy. However he does panic at times during captaincy. I may sound a bit harsh here, but I don't think he should have taken up India's captaincy," said Akhtar.
Commenting on Rohit's leadership skills, "He is even more talented than Virat Kohli. He is a classical batter. But was he made for captaincy? Does he react well in critical situations?" he questioned.
"You should also be questioning it. But there's no doubt that he has the ability to win this World Cup. He has a home advantage and a good team," Akhtar added.
The former fast bowler made a comparison between Rohit Sharma and the former captain, Virat Kohli, and their leadership styles. He pointed out that Virat Kohli also exhibited over-aggressiveness on the field, contributing to India's ongoing struggle to find a suitable captain since Dhoni's retirement.
Interestingly, Akhtar also took a jibe at the Indian media, suggesting that their constant scrutiny of Indian cricket team captains increases the pressure on them.
"Virat Kohli used to be overly aggressive, while Rohit Sharma panics a lot. I would blame the Indian media for this. An environment is built in which India just cannot afford to lose at any cost. Why can't they lose?" Akhtar queried.
Rohit Sharma has a brilliant track record of leading the Indian team to win 24 out of 34 ODIs. He was the captain of the team when India defeated the opponents in 39 out of 52 T20Is. Under Hitman's leadership, India won 5 out of 9 test matches but has not triumphed in a single ICC trophy.
India's 2023 World Cup journey kicks off as they face Australia at Chennai's MA Chidambaram Stadium on Sunday, October 8th.
Last Updated on October 7, 2023