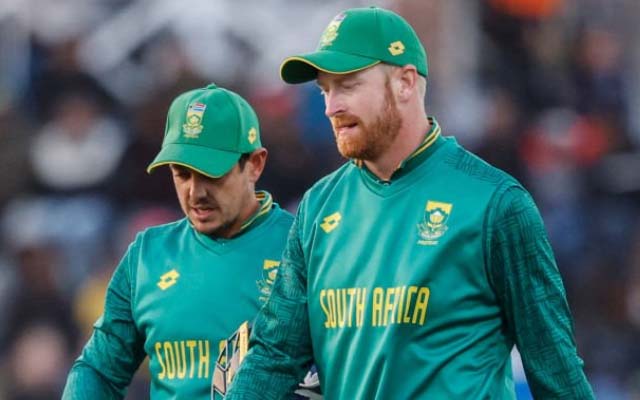 Heinrich Klaasen acknowledged the challenge of dissuading the legendary Quinton de Kock from retiring from ODI post-World Cup, praising his phenomenal career and hoping for a memorable farewell.
Quinton de Kock, renowned as one of the finest wicketkeeper-batters ever, declared that the 2023 World Cup would mark the end of his ODI career at the age of 30. He's bidding farewell in style, with a spectacular 174 runs off 140 balls against Bangladesh, his third century in just five matches during this year's tournament. De Kock leads the tournament in runs scored, amassing 407 runs at an impressive average of 81.40 and a swift strike rate of 114.97.
When talking to Star Sports, Wicketkeeper-batter Heinrich Klaasen acknowledged the challenge of persuading de Kock to reconsider his retirement decision, hoping for a memorable farewell for the cricketing great.
"It's going to be tough to convince him not to retire. He has been phenomenal for us and he has been great for South Africa over the years. It's sad to see him leave, but hopefully, he will leave on a good note. He has been brilliant for us in the tournament," Klaasen was quoted as saying.
On October 25th, South Africa secured a resounding victory over Bangladesh, thanks in no small part to Quinton de Kock's remarkable 174 off 140 balls. The former South African captain, Faf du Plessis earlier expressed his immense pride and admiration for the current Proteas squad, praising their stellar performance in the ongoing ODI World Cup 2023.
South Africa currently occupies the second spot on the points table, having clinched victory in four out of five matches. Their next challenge awaits them on October 27 in Chennai, where they'll face Pakistan. A win in this upcoming game would propel Temba Bavuma's team to the top of the table.
Last Updated on October 25, 2023