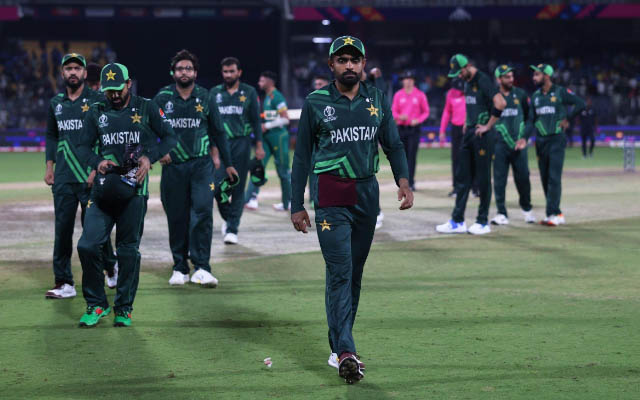 In a decisive finale on Saturday, November 11th, England concluded their World Cup campaign with a commanding 93-run victory over Pakistan in Kolkata.
Concluding their 2023 World Cup journey with consecutive victories, England triumphed over Pakistan in their last league fixture in Kolkata. Pursuing a target of 338, Pakistan struggled early, losing Shafique and Zaman at 10/2. Babar Azam and Rizwan initiated a recovery, but Atkinson dismissed Babar for 38.
Moeen Ali further disrupted Pakistan's innings, dismissing Rizwan at 36. Willey claimed his 100th ODI wicket, taking three in total, including Salam Ali Agha (51). Mohammad Wasim Jr. (16*) and Haris Rauf (35) formed a resilient partnership, yet Woakes' 44th-over breakthrough secured England's victory as Pakistan concluded at 244 in 43.3 overs.
Earlier, opting to bat first against Pakistan, England showcased a strong performance. Ben Stokes, in exceptional form, contributed an impactful 76-ball 84 before being dismissed by Shaheen Afridi, who had earlier dropped Stokes on 10. Stokes then formed a vital 100-plus partnership with Joe Root, who completed a half-century before getting out for 60(72), with Shaheen claiming two wickets in his full quota of overs.
Jonny Bairstow and Dawid Malan provided a strong start, adding 82 for the first wicket before Iftikhar Ahmed broke the stand in the 14th over, leading to Malan's departure at 31(39). Bairstow reached a half-century but was eventually removed by Haris Rauf for 59(61). In the final stretch, Harry Brook contributed a brisk 17-ball 30, and Jos Buttler added 27 off 18, further boosting England's innings.
Last Updated on November 11, 2023