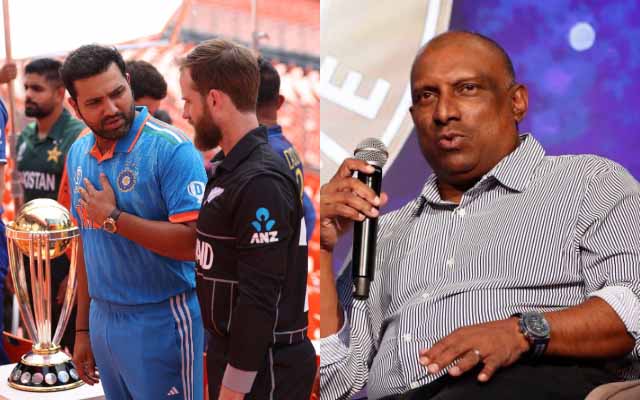 Aravinda de Silva underscored the intense pressure of semifinal clashes like India vs New Zealand, underlining the need for teams to perform flawlessly in a single decisive match.
Aravinda de Silva, a recent inductee into the ICC Hall of Fame alongside Virender Sehwag and Diana Edulji, stressed the significance of handling pressure in the high-stakes India vs New Zealand World Cup semi-final. Having experienced the intensity of knockout matches, he underlined the pivotal nature of this stage, where teams must perform flawlessly in a single crucial game.
"It's anyone's game when it comes to semifinals, it's a pressure game. It's a knockout game and it's not like you have seven or eight games to play where there is chance to come back. This is the vital stage where you need to fire on all cylinders at the right time. Pressure will be on both sides and about how you handle the pressure and how many players in your side handle it well," he said.
De Silva, a pivotal figure in Sri Lanka's 1996 World Cup victory, recalled the electric atmosphere of playing in India, noting that regardless of the fans' allegiance, their presence fueled his adrenaline and boosted his performance.
"I think just having people around gets your adrenaline pumping. It helps you to perform and to do whatever you do well. That's the impact it had with spectators being around. That's why I said, without those fans, irrespective of whether they are supporting you, it's like them watching a play and then you producing that bit of entertainment for them," De Silva added.
With a history of 93 Tests and 308 ODIs, De Sliva further heaped praise on Virat Kohli, applauding his outstanding form in this World Cup. He admired Kohli's ability to handle immense pressure and acknowledged his consistently remarkable performances.
Reflecting on cricket's future, the veteran player believes in the relevance of all three formats. He described T20 as a mix of power and speed, Test cricket as focused on endurance and strategy, and ODI cricket as a balance between entertainment, power, and crucial strategy. He concluded that each format holds significance due to its unique blend of elements.
Last Updated on November 15, 2023