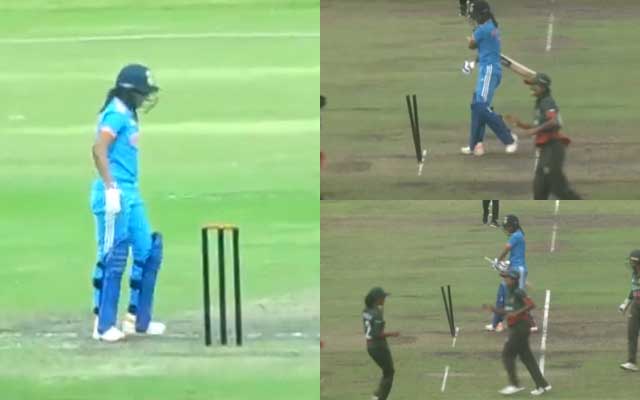 Harmanpreet Kaur, the captain of the Indian women's cricket team, has been handed a two-match suspension by the ICC due to two separate breaches of the Code of Conduct.
The incidents transpired during the third match of the ICC Women's Championship against Bangladesh in Dhaka.
One of the breaches involved Kaur's reaction to her dismissal, where she expressed frustration by hitting the wickets with her bat after being caught at slip by spinner Nahida Akter in the 34th over of India's innings. Incurring a Level 2 offense, Harmanpreet Kaur was fined 50 percent of her match fee and received three demerit points on her disciplinary record.
Watch the Video | Harmanpreet Kaur's Explosive Reaction to Umpire's LBW Call Shakes Up ODI Clash
Harmanpreet was also deemed in violation of article 2.8 of the ICC Code of Conduct for Players and Player Support Personnel, involving "showing dissent at an umpire's decision." Consequently, she was fined 25 percent of her match fee (Level 1 offense) after publicly criticizing the umpiring during the presentation ceremony of the international match.
Watch the Video | Harmanpreet Kaur's Explosive Outburst Against the Umpire Grabs Headlines
Level 2 breaches can lead to fines ranging from 50 to 100 percent of the player's match fee, along with three or four demerit points. On the other hand, Level 1 breaches incur a minimum penalty of an official reprimand, up to a maximum of a 50 percent match fee fine and one or two demerit points.
Harmanpreet's four demerit points resulted in a two-match suspension, applicable to one Test match or two ODIs or T20Is, whichever occurs first.
Having acknowledged her offenses, the skipper accepted the sanctions put forward by match referee Akhtar Ahmed from the Emirates ICC International Panel. As a result, a formal hearing was unnecessary, and the penalties were promptly enforced.
Last Updated on July 25, 2023