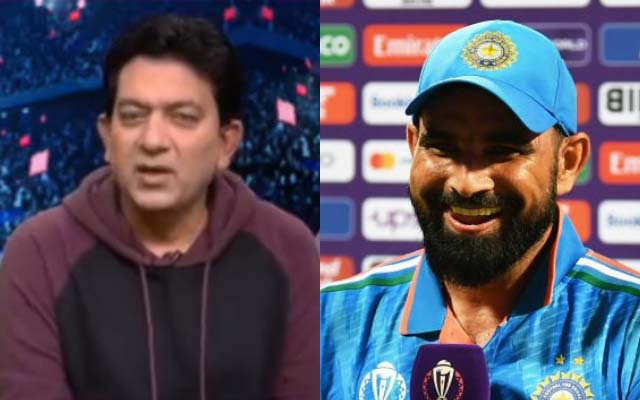 Indian pacer Mohammed Shami responded to Hasan Raza's allegations of ball tampering in the ongoing ODI World Cup 2023, urging Raza to focus on the game and enjoy the success of others.
The Rohit Sharma-led Indian team is enjoying a remarkable season at the ongoing ODI World Cup 2023, maintaining an impeccable record of eight consecutive wins during the league stage. However, their unbeaten run has sparked allegations of cheating from various media outlets and fans.
Following India's resounding victories over Sri Lanka and South Africa, former Pakistani cricketer Hassan Raza, speaking on a Pakistani news channel, suggested that the Indian team may be using different balls to achieve enhanced swing and seam. Raza also called upon the International Cricket Council (ICC) to investigate the balls employed by Indian bowlers.
READ MORE | Hasan Raza Raises Concerns Over Ball Handling in India's ODI World Cup 2023 Matches
This controversy gained traction on social media, prompting Indian pacer Mohammad Shami to respond. Shami used his Instagram story to address the allegations, urging critics to concentrate on the game and appreciate the success of others.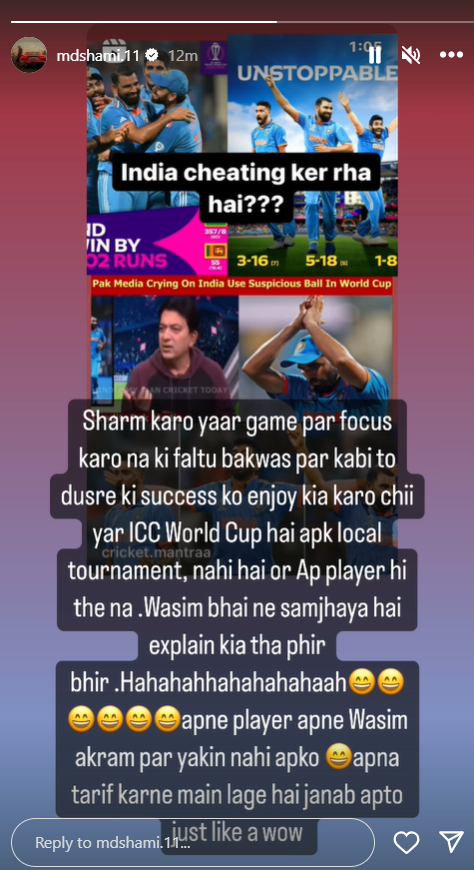 Sharm karo yaar game par focus karo na ki faltu bakwas par kabi to dusre ki success ko enjoy kia karo chii yar ICC World Cup hai apk local tournament, nahi hai or Ap player hi the na. (Have some shame, my friend. Focus on the game and not on useless talk. Sometimes, try to enjoy someone else's success. This is the ICC World Cup, not your local tournament. And you were a player too, weren't you?)", Shami wrote.
"Wasim bhai ne samjhaya hai explain kia tha phir bhir. Hahahahhahahahahaah. aapne player apne Wasim akram par yakin nahi apko. (Wasim bhai has explained and clarified it. You don't have confidence in your players, even in Wasim Akram, don't you?)" he added.
Shami joined the XI when Hardik Pandya got injured and was later ruled out of the tournament. In the ODI World Cup 2023, he has taken 16 wickets in four matches, including two fifers.
Last Updated on November 8, 2023