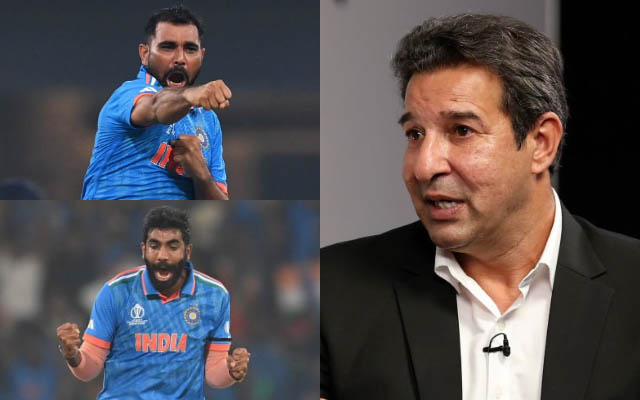 The former Pakistani cricketer, Wasim Akram, praised India's fast bowlers, including Bumrah, Siraj, and Shami, declaring them the best in the world after their victory over England on a challenging pitch.
Former Pakistani cricketer Wasim Akram showered praise on India's fast bowlers, specifically highlighting Jasprit Bumrah, Mohammad Shami, and Mohammed Siraj, hailing them as the finest in the world. Bumrah and Shami showcased their brilliance with a dynamic new-ball spell that dismantled England, securing a crucial victory for India in Lucknow on October 29. This formidable duo jointly claimed seven of the ten wickets, delivering an exceptional bowling performance. Of notable mention, Shami has already amassed nine wickets in the tournament after just two games.
"Indian pacers look brilliant, they look best in the world starting from the leader of the pack Bumrah, Siraj ran in and Shami did the last nail in the coffin for England. We all thought that India was lagging and England had a chance but the wicket was different from what we usually have seen in this World Cup. The pitch was difficult to bat on especially when India was batting," Akram shared when speaking on the 'A Sports' program.
Akram further praised the exceptional efforts of Bumrah and Shami in dismantling England's batting lineup. Despite India's struggle with the bat, posting only 229/9 on a challenging pitch, their fast bowlers shone by dismissing England for just 129 runs.
Bumrah made a significant impact by taking key wickets, including Dawid Malan and Joe Root, while finishing the match with a pinpoint yorker to dismiss Mark Wood. Shami's remarkable performance featured a four-wicket haul that dismantled England's middle order, marking one of his finest white-ball spells.
Last Updated on October 30, 2023