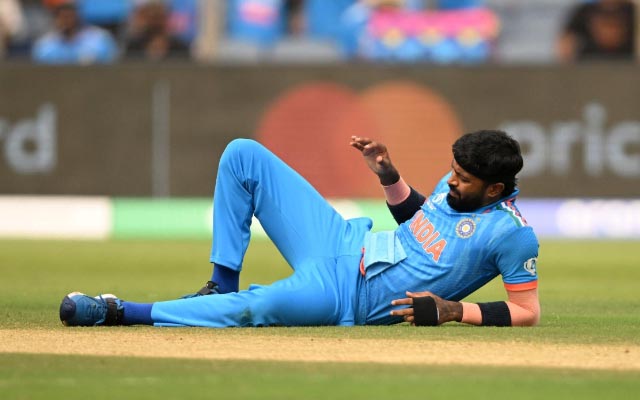 Due to a left ankle injury suffered against Bangladesh, Hardik Pandya might sit out in India's upcoming World Cup fixture against England in Lucknow on October 29.
Hardik Pandya is likely to sit out India's upcoming World Cup clash against England in Lucknow on October 29, as he continues to recover from an ankle injury sustained during the match against Bangladesh in Pune. Although the injury isn't considered severe, the team management is taking a cautious approach and doesn't want to rush Pandya's return.
"Yes, Hardik is likely to miss the next match vs England in Lucknow. It is more of a precaution at this stage and nothing serious," a BCCI official said when talking to CricketNext.
Hardik was absent from the team's journey to Dharamsala due to an ankle injury. The Board of Control for Cricket in India (BCCI) medical team recommended rest, and he's expected to rejoin the team ahead of the Sri Lanka match in Mumbai.
India extended their winning streak by defeating New Zealand in their last fixture and enjoyed a two-day break in Dharamsala. The team will spend an additional two days before heading to Lucknow on October 25 to face England. India has had a perfect campaign till now, remaining undefeated and showcasing strength in all three aspects of the game.
In Hardik's absence, two changes were made for the match against New Zealand, with Mohammed Shami and Suryakumar Yadav included in the Playing XI, while Shardul Thakur remained on the bench. This change proved fruitful as Shami marked an emphatic return to the XI with a five-wicket haul. Unfortunately, Suryakumar Yadav was run out early in the innings.
Last Updated on October 25, 2023