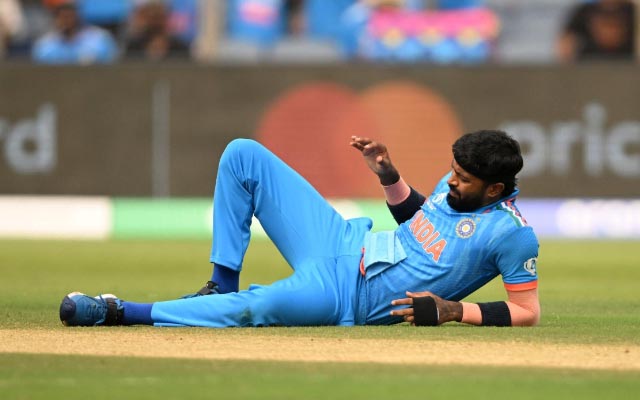 According to reports, Hardik Pandya's World Cup 2023 journey is in jeopardy as he may miss additional games due to a Grade 1 ligament tear in his ankle, an injury sustained while fielding off his own bowling.
Team India has touched down in Lucknow for their forthcoming match against reigning champions England in the ongoing World Cup 2023. While India stands undefeated in the tournament, leading the table with 10 points and an impressive Net Run Rate of +1.353, concerns loom over vice-captain Hardik Pandya's injury.
Hardik suffered an injury during the game against Bangladesh in Pune, forcing him to miss the subsequent match against New Zealand in Dharamsala. According to a report from The Times of India, Hardik's injury appears more severe than initially thought, with a suspected Grade 1 ligament tear in his ankle, which occurred while attempting a fielding play during his own bowling. Currently, his condition is under the observation of Nitin Patel at the National Cricket Academy (NCA) in Bengaluru.
"It looks like he has suffered a minor ligament tear which usually takes at least two weeks to heal. The NCA will not release him before his injury heals. The medical team has communicated to the team management that they are hopeful of putting him back on the pitch soon. The team doesn't want to bring in a replacement as it's ready to wait for Pandya," the report quoted an anonymous source.
"The current situation is such that a call on Hardik's involvement for the rest of the tournament will be taken next week. His return to play will have to be carefully charted. His fragile foundation makes the recovery longer than a lot of other players who have greater muscle mass. If need be, he is ready to take injections and play in the business end of the tournament. Anyway, if Hardik isn't bowling at full tilt, it doesn't really make such a big difference to the composition," the source added.
It appears highly probable that Hardik Pandya won't be able to participate in the upcoming match against England on October 29 in Lucknow. Reports also suggest that he might be absent for the games against Sri Lanka and South Africa in early November.
Earlier, Cricketnext reported Pandya's likely absence from the England game but assured that his condition isn't a grave concern. According to a BCCI official, this precautionary measure is being taken to ensure Pandya's well-being rather than due to a serious issue.
In Hardik Pandya's absence, Team India made two alterations for the New Zealand match, bringing in Mohammed Shami and Suryakumar Yadav to the playing XI, while Shardul Thakur remained on the bench. This move paid off as Shami delivered a remarkable five-wicket performance, while Suryakumar Yadav was unfortunately run out early in his innings. Shami is expected to maintain his spot in the XI.
Last Updated on October 26, 2023