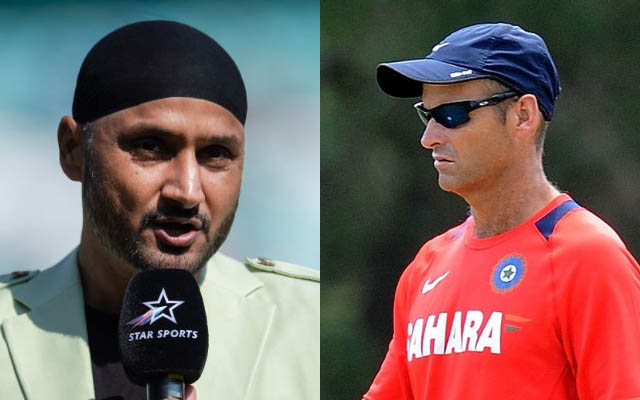 Harbhajan Singh expressed concerns about the pressure the Indian team will face during the upcoming ODI World Cup on home soil and expressed his hope that the players would avoid succumbing to it.
Former Indian cricketer Harbhajan Singh has cautioned the current Indian cricket team against using their phones for the next two months. He cited the immense pressure they will face in the upcoming ODI World Cup, stressing the need to avoid distractions from social media.
When talking to India Today, Harbhajan drew a comparison with the 2011 campaign when they successfully shielded themselves from media pressure by refraining from reading newspapers. However, he noted that the landscape has changed significantly with the rise of social media, making it even more critical to stay focused and avoid online criticism.
"Those times (2011) were different. You could get away by not reading newspapers. Now, everything is there on social media. Gary Kirsten had set up a rule and asked us not to read newspapers. If you don't perform well on a particular day, you will see what people will do on social media. I would advise players to stay away from social media. Don't see your phones for the next two months," said Harbhajan.
In 2011, India won the ODI World Cup in an exciting final match against Sri Lanka in Mumbai. Under the captaincy of MS Dhoni, India boasted a star-studded batting lineup that included Sachin Tendulkar, Virender Sehwag, Gautam Gambhir, and Virat Kohli.
Tendulkar's exceptional performance, amassing 482 runs, made him the tournament's second-highest run-scorer. MS Dhoni's unbeaten 91 in the final made him 'Man of the Match,' his six sealing the victory. Yuvraj Singh, the 'Man of the Tournament,' excelled with 362 runs and 15 wickets.
India's win was extra special, being the first time a host nation won the World Cup at home.
Former player Sunil Gavaskar also acknowledged the mounting pressure on players as India prepares for the upcoming tournament, having not reached an ICC ODI World Cup final since 2011.
Gavaskar highlighted the unavoidable nature of this pressure, mentioning how even simple interactions, like ordering room service, could lead to ticket requests or discussions about a player's performance.
"Block yourself from everything, which is not going to be easy. Sachin Tendulkar had headphones on so he could not hear anyone. They would all be wishing him but the chatter of a hundred could add to the pressure. It's not easy to do that in your room but you can block yourself when you go out," Gavaskar remarked.
India kicks off their 2023 World Cup campaign with an opening match against Australia scheduled for Sunday, October 8th, in Chennai.
Last Updated on October 5, 2023