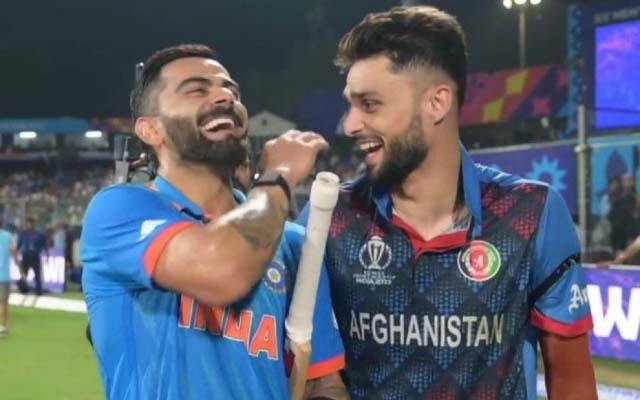 From a fiery IPL exchange to a surprising post-match chuckle, Virat Kohli and Naveen-ul-Haq left netizens in awe with their unexpected camaraderie during the India vs. Afghanistan match.
Virat Kohli and Afghanistan's Naveen-ul-Haq had a fiery history, thanks to their intense clash during the IPL, when Lucknow Supergiants battled the Royal Challengers Bangalore. However, a surprising twist in their relationship occurred as they were caught sharing laughter during India's showdown with Afghanistan at Delhi's Arun Jaitley Stadium on October 11, leaving cricket fans pleasantly puzzled by this unexpected camaraderie.
At the start of the match, Naveen-ul-Haq became the focus of Indian fans' attention due to the IPL dispute. From the moment he stepped onto the field to bat in the first innings, fans tried to unsettle him with "Kohli, Kohli" chants. However, Kohli, not wanting the crowd to engage in such behavior, requested restraint.
Later, Naveen-ul-Haq approached the Indian star to express his gratitude for the sporting gesture. They shared a hug, and after the match, as they walked back to the dressing room, they were seen engaged in a jovial conversation.
October 12, 2023
When asked about the pleasant moment he shared with Kohli after the game, Naveen commented, "He is a nice guy, a good player and we shook hands. It's always in the ground, it was nothing outside the ground. People make it big. They need that stuff for their followers. He said we are done with that and I said yes we are done with it. We shook hands and hugged."
India notched their second tournament victory by defeating Afghanistan with a comfortable margin of 90 balls remaining, significantly improving their net run rate. Now, with both teams riding high on dominant World Cup performances, India is set to face Pakistan, seeking to sustain their momentum in the competition.
Last Updated on October 12, 2023