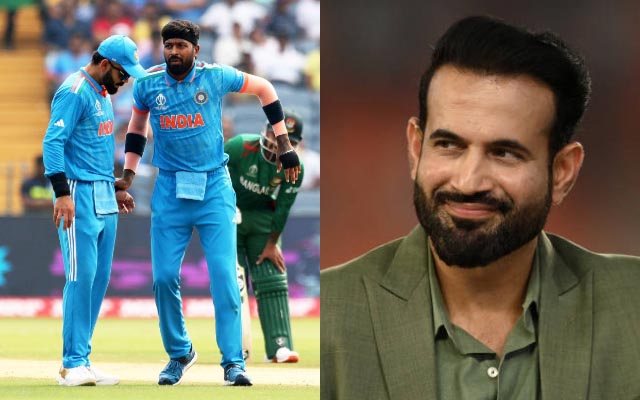 Irfan Pathan acknowledged the personal setback for Hardik Pandya due to his exclusion from the 2023 World Cup but noted that the Indian team has effectively coped without missing him in recent matches.
Former Indian cricketer, Irfan Pathan, expressed his concern over Hardik Pandya's significant setback due to his exclusion from the 2023 World Cup, caused by a left ankle injury sustained while fielding. Although initially expected to return, he has now been replaced by Prasidh Krishna.
READ MORE | Hardik Pandya Ruled Out, Prasidh Krishna Named Replacement
In a discussion on Star Sports, Pathan noted that the Indian team, unlike some other teams, has a strong bench strength and hasn't been adversely affected by Hardik's absence, minimizing the impact on their performance in recent matches.
"It is a huge setback for Hardik personally but the team hasn't missed him much. If it had been any other team apart from the Indian team, they have not built their bench strength. They have struggled a lot. See what happened with Pakistan. When Naseem Shah got injured, where did they go? They didn't go forward, they went back. They brought Hasan Ali. The Indian team is not in that situation," Pathan said.
"The selectors, team management, coach Rahul Dravid, captain Rohit Sharma have developed such a fantastic bench strength that if one guy goes out and the other comes, you feel – 'Oh, he is also there'. It's not how will he perform," he added.
In response to Hardik Pandya's absence, India introduced Suryakumar Yadav and Mohammed Shami into the playing XI. Irfan Pathan also highlighted that the Indian team's strength is showcased by the smooth transition of players like Mohammed Shami, who excelled in Pandya's absence.
With their semi-final spot secured, India will play South Africa in their next match, aiming to clinch the top spot in the league stage.
Last Updated on November 4, 2023