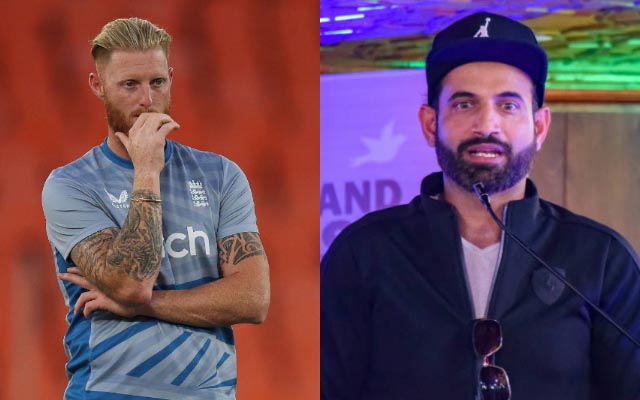 Irfan Pathan recommends that England should field Ben Stokes in their next World Cup 2023 match, even if he is at 99% fitness, following their loss to Afghanistan.
India's former player, Irfan Pathan emphasized the importance of England including Ben Stokes in their playing XI for the next World Cup match, even if he's not completely fit, following their 69-run loss to Afghanistan in Delhi on October 15. Their upcoming game against South Africa at Mumbai's Wankhede Stadium is a crucial one, and Pathan underlined the need for Stokes' experience in the lineup, cautioning that there may not be a chance for a comeback if they lose again.
Pathan drew parallels with England's 2019 World Cup journey, where they overcame losses in the league phase to ultimately become champions, highlighting the significance of fielding their best XI early to secure their campaign.
"Bring in Ben Stokes even if he is 99% fit. You need him. You brought him for his experience. They won't have a chance to come back if they lose the next match. It won't happen every time," said Pathan during a discussion on Star Sports.
"In the 2019 World Cup, England lost three matches. They lost to Sri Lanka, Pakistan and one more match. They became the world champions despite that. So it's not that everything is over but if they get too late in playing their main team and their better bowlers, they will not be able to catch the wagon," he added.
Despite Ben Stokes missing England's first three World Cup games due to a hip injury, his potential impact on the team's performance was a topic of discussion.
In the same discussion, Former batter Mohammad Kaif expressed that Stokes' experience in India, coupled with his left-handed batting, could have made a difference in England's pursuit of the 285-run target against Afghanistan. However, Kaif also emphasized that England possessed the batting strength to achieve the target even in Stokes' absence.
"He (Ben Stokes) has played a lot in India. He has played for many years in the IPL. He has that experience and bats left-handed, so it would have made a difference. However, without him as well, you are not talking about 400, 284 is a moderate total on a flat pitch. They had the batting. I can understand Ben Stokes has the experience but they have players apart from him as well. You talk about Liam Livingstone, Dawid Malan, Joe Root, and they have batting till No. 10," said Kaif.
Pathan also humorously chimed in how those not part of the XI are often deemed legendary, and Kaif suggested England might consider significant lineup changes for their next game.
Last Updated on October 16, 2023