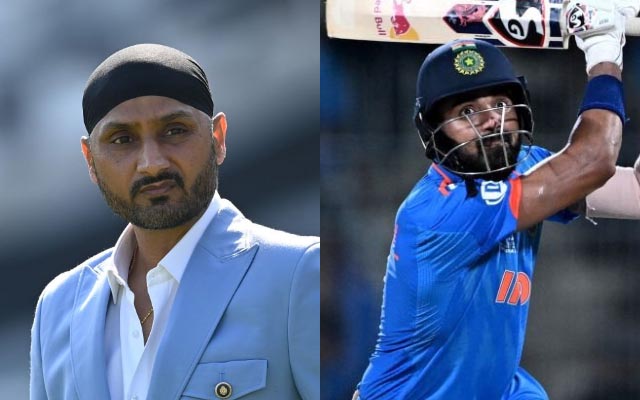 Harbhajan Singh believes KL Rahul can be India's new No. 4-5 batter, akin to Yuvraj Singh, due to his game intelligence and adaptability.
India's former off-spinner Harbhajan Singh has highlighted KL Rahul's ability to fill the crucial No. 4-5 batting role in ODIs, drawing comparisons to the legendary Yuvraj Singh. Harbhajan praised Rahul's tactical intelligence, noting his proficiency in switching between defense and attack.
Rahul's stellar performance in the 2023 World Cup match against Australia further highlighted his potential, where he was named Player of the Match for his unbeaten 97* off 115 balls. His partnership with Virat Kohli, amassing 165 runs for the fourth wicket, led India to a six-wicket victory after a shaky start, chasing a target of 200 at the MA Chidambaram Stadium in Chennai on October 8.
In his YouTube analysis of India's victory, Harbhajan heaped praise on the 31-year-old's exceptional performance, drawing parallels with Yuvraj Singh. He lauded Rahul's adaptability in the No. 4-5 position, commending his ability to rotate the strike and choose the right moments for boundary hitting.
"KL Rahul played an unbelievable knock. After Yuvraj Singh, we have finally found a batter who is looking set at No. 4-5. He knows how to take the singles and twos and when to hit the boundaries – when to change the game," said Harbhajan.
"He has been doing well in the last couple of months since comeback. He had a bad last year due to injuries and was out of the team. But the way he has made a comeback, it's a blessing. I hope he remains fit because he is batting really well. He has a solid defense and his stroke play looks so easy. It is enjoyable watching his batting," he added.
KL Rahul's brilliant innings against Australia featured eight fours and two crucial sixes, the latter coming off Pat Cummins' bowling to secure India's victory. Before Rahul's batting heroics, left-arm spinner Ravindra Jadeja had made a significant impact, taking 3/28 with the ball.
While praising Jadeja, Harbhajan hailed a delivery that dismissed Steve Smith as the "ball of the match." He lauded Jadeja's precise pace and seam positioning.
Furthermore, Harbhajan emphasized Australia's struggle against India's spinners and highlighted Jadeja's Chennai expertise, where he consistently delivers exceptional performances. Jadeja took three wickets, while Kuldeep Yadav (2/42) and Jasprit Bumrah (2/35) also showcased their skills with impressive bowling performances.
"All three spinners bowled really well. Australia seemed to have no plan on how to tackle India's slow bowlers. Jadeja is the magician over here. He has played a lot of cricket in Chennai. If you look at his record in Chennai, he almost always claims 3-4 wickets," Harbhajan concluded.
Last Updated on October 9, 2023