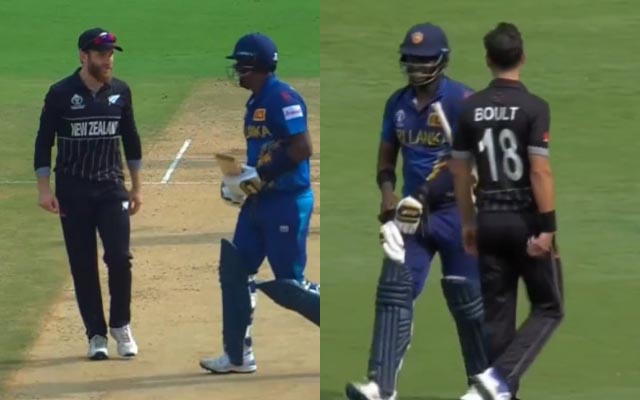 New Zealand's skipper Kane Williamson playfully asked Angelo Mathews about the latter's helmet, referencing the incident which occurred only days before where Mathews was dismissed from the field for lingering on to fix his helmet and not making it back to his position in the allotted time.
The 38th match of the ICC Men's Cricket World Cup featured an incident that has never, in the history of international cricket, occurred before. Sri Lankan cricketer Angelo Mathews is the first batter to be dismissed 'Timed Out' from the field by the umpire for not reaching the crease in the allotted time. Mathews shared a timed video later to prove his innocence. The whole incident engendered a flurry of trolls and criticism, of ICC and Mathews, on social media from fans, critics and fellow cricketers.
In the match against New Zealand, the Sri Lankan batter was subjected to light-hearted teasing from the opposing team as he strode into bat during the first inning in the match against New Zealand on November 9. The captain of The Kiwis, Kane Williamson, playfully approached him with a humorous question, asking, "Do you have a strong helmet, my friend? Is the strap secure?" This witty remark led to laughter from the commentators and enthusiastic fans, making this friendly interaction a trending topic on social media, highlighting the camaraderie and banter between the players.
Nevertheless, Sri Lanka's struggles with their batting persisted, with the team losing their initial five wickets with only 70 runs on the board. Mathews had a disappointing outing in the match, being dismissed by Mitchell Santner after scoring only 16 runs.
Last Updated on November 9, 2023