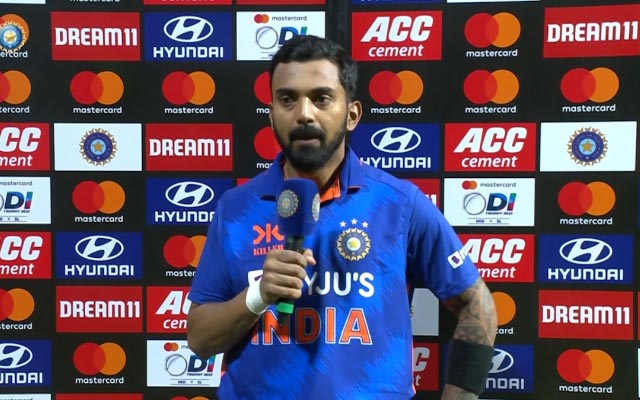 KL Rahul highlighted the selection challenges faced by the Head Coach and Rohit Sharma after impressive performances from Shreyas Iyer, Suryakumar Yadav, Mohammed Shami, and Ravichandran Ashwin in the first two ODIs against Australia.
With India's strategy of testing their bench strength proving successful in the first two ODIs against Australia, the team management faces a challenging dilemma as they prepare for the return of senior players like Rohit Sharma, Virat Kohli, Hardik Pandya, Kuldeep Yadav, and Mohammed Siraj.
Notably, Shreyas Iyer, Suryakumar Yadav, Mohammed Shami, and Ravichandran Ashwin stepped up admirably in their absence, making the captain and coach's task of selecting the best XI for the upcoming third ODI in Rajkot a delightful yet difficult problem of plenty.
Iyer's century and Suryakumar's consecutive fifties in the second ODI showcased their prowess. However, with the impending return of Kohli and Pandya, team management faces a quandary. KL Rahul, who captained the first two ODIs against Australia, believes that the selection headache now rests squarely on the shoulders of Captain Rohit Sharma and Head Coach Rahul Dravid.
"As players, it's not really our decision to make. It is the headache of the coach and Rohit when he comes back. Our jobs, roles are very clear. Everyone who gets picked in the XI, has a job to do. Sitting out can be hard after scoring a lot of runs but everyone has been through that and I think it always be that way," said Rahul.
"When I saw the wicket, I didn't think it would spin that much. Putting 400 on the board gives you confidence," Rahul added.
In the second ODI, India's batsmen displayed their prowess with centuries by Shubman Gill and Iyer, along with fifties from Rahul and Suryakumar, powering India to a formidable 399/5 in 50 overs.
Despite Rahul's initial inclination to bowl first, they didn't anticipate much spin in the second innings. Ravichandran Ashwin and Ravindra Jadeja combined effectively to take six wickets, dismantling Australia for a mere 217.
Rahul attributed some dropped catches in the ongoing series to the challenge of adapting to varying stadium lighting due to frequent travel.
"We have dropped a few catches, but when you are traveling every second day and playing at a different ground is getting used to the lights. A lot of guys have been playing for a long time. The coaches are doing their best to keep the guys fit. Sometimes these errors happen. The commitment is always there, we'll learn from it, brush it off and get better in the next game."
"Nothing is discussed, but guys coming back will want to make it count. With the World Cup only a couple of weeks away, guys will want to get into it. They need to get used to the challenges, they will be keen to get back on to the field," Rahul further added, when probed about senior players returning to the playing XI.
Last Updated on September 25, 2023