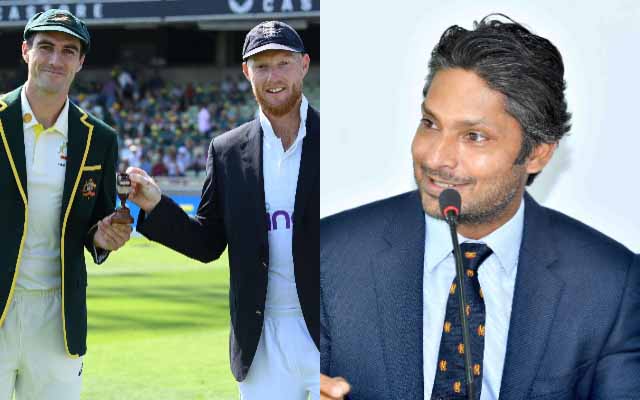 In the gripping fourth Test of Ashes 2023, England ended Day 2 with a 67-run lead at 384/4. Zak Crawley's brilliant 189-run performance at Old Trafford bolstered their position.
Former Sri Lankan skipper Kumar Sangakkara's bold statement predicts a 3-2 Ashes 2023 victory for England if they conquer the Manchester Test, further fueling the excitement of the series. He also emphasized the Pat Cummins-led side's lack of direction on Day 2. 
During a conversation on Sky Sports Cricket's Ashes Podcast, Sangakkara stated, "If England wins this Test, then they are going to take the Ashes 3-2."
Commenting on Australia's performance, he mentioned, "With the ball, it's been a long time since I have seen the Australians this perplexed on the field. Not knowing what to do, what fields to set and then bowling completely different from the fields set. It's really affected them."
Sangakkara further elaborated, "If this goes England's way, three days before the next Test, the memories and scars will stay. England has recognized when they are ahead, and they have accelerated and taken the game away," concluding his analysis.
In the 2023 Ashes series, Australia currently leads with a 2-1 score, leaving England with a critical task ahead. Following a narrow three-wicket defeat in the last match, they must win the remaining two games to lift the Ashes trophy. 
Pat Cummins' side faced a tough challenge after losing the toss and batting first, managing to score 299 runs by the 82nd over before being bowled out the following day. Interestingly, a series win would mark the first time since Don Bradman's 1936-37 Ashes side that Australia triumphed after trailing by 2-0.
Last Updated on July 21, 2023