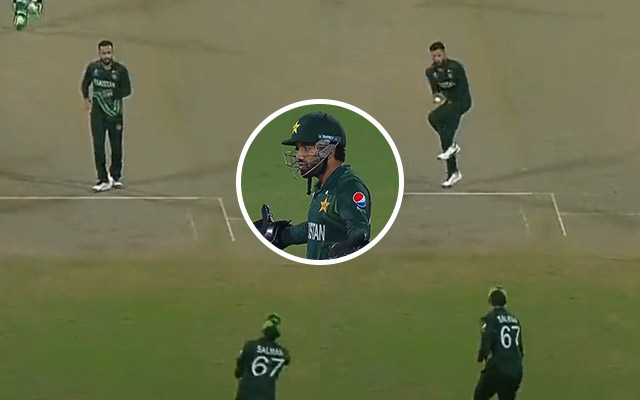 During the Pakistan vs. South Africa game, a hilarious mishap unfolded as Mohammad Rizwan, Agha Salman, and Mohammad Nawaz found themselves in a comedy of errors when Salman's throw meant for the stumps inadvertently hit Nawaz's hand.
In a hilarious moment during the ongoing Pakistan vs. South Africa World Cup match, Mohammad Rizwan, Agha Salman, and Mohammad Nawaz starred in a comedic blunder that had fans in fits of laughter. The incident occurred in the 5th over when Temba Bavuma attempted a quick single by hitting the ball towards mid-on. Sensing an opportunity, Rizwan urged fielder Agha Salman to target the stumps at the bowler's end.
However, the pressure seemed to get the best of Salman, leading him to mistakenly launch a bullet-like throw directly at Nawaz's hand instead of the stumps. The mishap left Nawaz in pain and left commentators Ramiz Raja and Russel Arnold in hysterics, while the crowd couldn't contain their amusement.
Bavuma hits to Mid on and takes off
Rizwan to Mid On(Salman): Maar de maar de
Mid on: Hits the bowler(Nawaz)
😂 @Aminabutt280#PAKvsSA #CWC2023 pic.twitter.com/Tr5KHIq7VC

— Shivam (@the_Shivamk) October 27, 2023
Pakistan is facing a crucial must-win match as they've lost their last three games, and a defeat against South Africa could all but eliminate them from the tournament. In their recent match, Pakistan posted a total of 270, with Babar Azam contributing 50 runs and Saud Shakeel adding 42. Shadab Khan chipped in with a quick 43. Despite looking poised for a 300-plus total, they lost their way towards the end and were eventually bowled out for 270.
Back home, Pakistan cricket is also going through a period of turbulence due to the team's poor performance in the World Cup. The Pakistan Cricket Board (PCB) had to issue a statement urging fans to support the team.
Last Updated on October 27, 2023