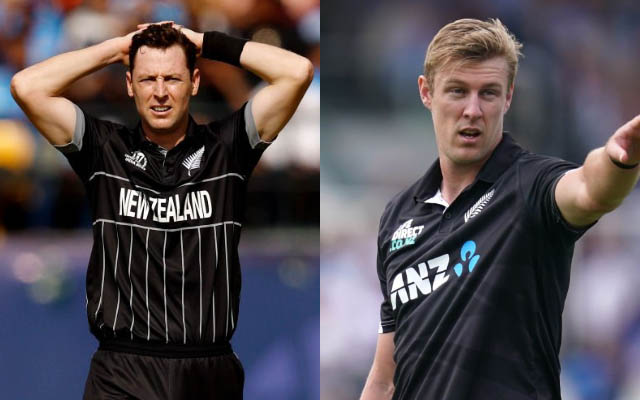 New Zealand's injury concerns in the World Cup escalate as fast bowler Matt Henry departs due to a hamstring injury during the match against South Africa, prompting the inclusion of Kyle Jamieson as cover.
During the World Cup match against South Africa, fast bowler Matt Henry sustained a right hamstring injury, forcing him to leave the field midway through his sixth over. James Neesham completed the over, eventually finishing with 1 for 69 in 5.3 overs. Despite initial hopes of his return, it was later confirmed that Henry wouldn't resume bowling. He batted at No. 11 but couldn't run, contributing as New Zealand reached 167 before being all out in the 36th over. Henry is scheduled for a scan on Thursday.
To address the bowling gap, New Zealand has enlisted Kyle Jamieson, who will join the squad in Bengaluru for Saturday's match against Pakistan.
Head coach Gary Stead expressed concern about the severity of Matt Henry's injury and the quick turnaround, hoping for positive scan results.
"The severity of Matt's injury, combined with a short turnaround to Pakistan, meant we couldn't risk being a bowler down for Saturday. Matt's been a world-class performer for us in ODI cricket for the past two World Cup cycles so we've got our fingers crossed for the scan results later today," Stead said.
"Kyle's on his way over as we speak and we look forward to welcoming him back into the group. He'll likely train with us on Friday with a mind to being available for Saturday's game," he added.
New Zealand faced more injury concerns when James Neesham suffered a wrist blow during his follow-through. He batted at No. 9 in the chase of 357, with an X-ray confirming no broken bones. Lockie Ferguson, who had an Achilles injury against Australia, is expected to recover and be available for the next game against Pakistan in Bengaluru, as per NZC's statement.
Injuries have plagued New Zealand's campaign since the squad announcement in September. Both Williamson and Southee joined the tour with lingering injuries, and while Williamson returned in the third match against Bangladesh but later suffered a thumb fracture, Southee's participation began in the fifth match against India.
New Zealand's initial four wins were followed by three consecutive defeats, leaving them in fourth place with eight points.
Last Updated on November 2, 2023