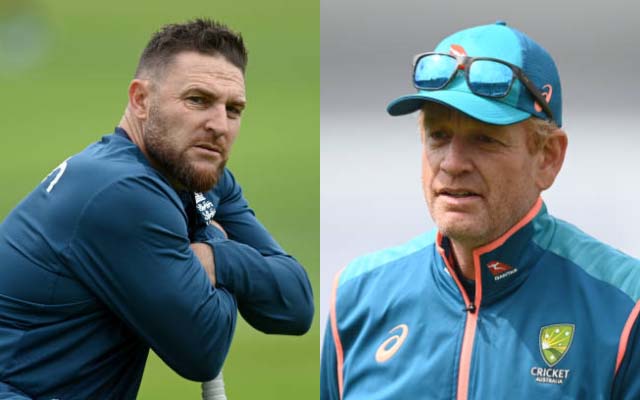 In the wake of the contentious run-out of Jonny Bairstow at Lord's, Ashes relations have taken a sharp downturn, leaving Australian coach Andrew McDonald disappointed with his English counterpart's reaction. The incident has reignited hostility between the two teams, setting the stage for an intensified rivalry heading into the third Test at Headingley.
The final day witnessed Australian wicketkeeper Alex Carey stump Bairstow, triggering a storm of emotions and heated confrontations on the field. England coach Brendon McCullum strongly criticized the Australian team's approach, bluntly stating, "I can't imagine we'll be having a beer with them any time soon."
"I've heard that comment for the first time, and I'm somewhat disappointed by that," said Andrew McDonald. He further highlighted that seizing opportunities when a player leaves their crease is part of the game, and wicketkeeper Alex Carey acted accordingly. The final decision rested with the third umpire, who deemed Bairstow out in line with the laws of the game.
The Australian coach brushed off the external criticism, acknowledging that cricket often evokes differing opinions and divided spectators. "We saw it on Day 4 with the (Mitchell Starc) catch as well. Some people thought it was out, some people thought it was not out. These types of events are interpreted as part of the laws, and sometimes not everyone agrees with it." McDonald added.
With Australia now holding a commanding 2-0 series lead, tensions are poised to escalate further.
Last Updated on July 4, 2023