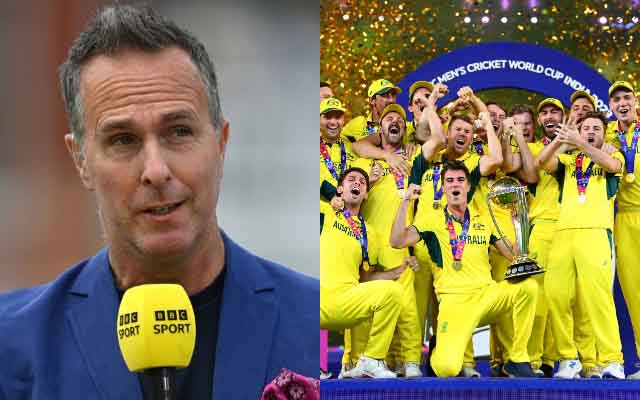 Vaughan hailed Australia's World Cup win in India, citing their performance against the formidable Indian team, the overwhelming home crowd, and the challenging pitch as the most incredible victory.
Michael Vaughan praised the Australian cricket team for their remarkable victory against India in the sixth World Cup final at Narendra Modi Stadium, Ahmedabad. Australia showcased dominance, bowling India out for 240 and successfully chasing the target in 43 overs, led by Travis Head's impressive century.
Vaughan highlighted that Australia's performance silenced critics, particularly in front of the massive 'Ocean of Blue' Indian crowd. He emphasized the significant achievement of winning a World Cup in India against the formidable Indian team and the overwhelming support they received, recognizing India's influence throughout the tournament.
"To win a World Cup in India, against this India side, against this crowd, everything about the whole operation of this World Cup has been about India – the force that they are. Australia has completely silenced that on this day in front of so many, on a pitch that is much more suited to the home team than an Australian side. The most incredible World Cup victory I've seen, against all odds," Vaughan said when speaking on the BBC Test Match Special.
Australia faced initial setbacks but rallied with eight consecutive victories leading up to the final, while India was deemed favorites due to their undefeated run. Despite this, Australia, under immense pressure, held their ground to clinch the victory.
Michael Vaughan further believes the current team often lives under the shadow of past greats but asserts that their recent achievements – winning multiple World Cups, Ashes triumphs, Test championships, and now the World Cup in India – warrant recognition on par with the legendary Australian sides of the 90s and early 2000s.
Last Updated on November 20, 2023