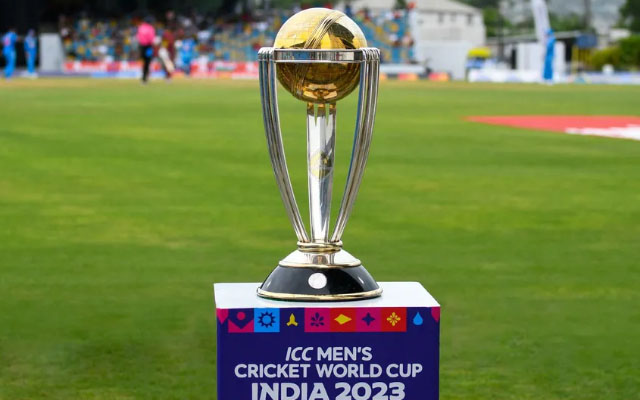 The ICC Men's Cricket World Cup 2023 in India has unveiled a total prize pool of USD 10 million for the tournament.
The ICC Men's Cricket World Cup 2023 has disclosed its prize distribution, earmarking a substantial share of the $10 million total prize money. The victorious team in the final match, scheduled for November 19 at Ahmedabad's Narendra Modi Stadium, is poised to pocket a significant $4 million, while the runners-up will secure a substantial $2 million. During the Group Stage, all ten participating teams will engage in a round-robin format, with the four highest-ranked teams advancing to the semi-finals.
In addition to the substantial rewards for tournament success, teams competing in the Group Stage of the ICC Men's Cricket World Cup 2023 will earn $40,000 for each victory. For those unable to secure a spot in the knockout stage, there's a consolation prize of $100,000 at the end of the group phase.
Notably, this equitable prize structure also paves the way for the upcoming ICC Women's Cricket World Cup in 2025, as the ICC announced equal prize money for both men's and women's events during its Annual Conference in Durban, South Africa, in July 2023.
The 13th edition of the prestigious ICC Men's Cricket World Cup will feature 10 competing teams. India secured their place as hosts, while New Zealand, England, Bangladesh, Pakistan, Australia, Afghanistan, and South Africa advanced through the Super League. Sri Lanka and the Netherlands earned their spots through the Qualifier competition.
Here's how the prize money distribution is divided:
| | | |
| --- | --- | --- |
| Stage | Rate US$ | Total US$ |
| Winner (1) | 4,000,000 | 4,000,000 |
| Runner-up (1) | 2,000,000 | 2,000,000 |
| Losing Semi-Finalist (2) | 800,000 | 1,600,000 |
| Teams eliminated after group stage (6) | 100,000 | 600,000 |
| Winner of each group stage match (45) | 40,000 | 1,800,000 |
| TOTAL | | 10,000,000 |
The pinnacle event in men's cricket, spanning 48 matches across 10 venues, kicks off on October 5 with a rematch of the previous edition's final, featuring defending champions England against New Zealand. Prior to the World Cup's commencement, each team will participate in two warm-up matches, gearing up for the 46-day tournament.
Last Updated on September 22, 2023