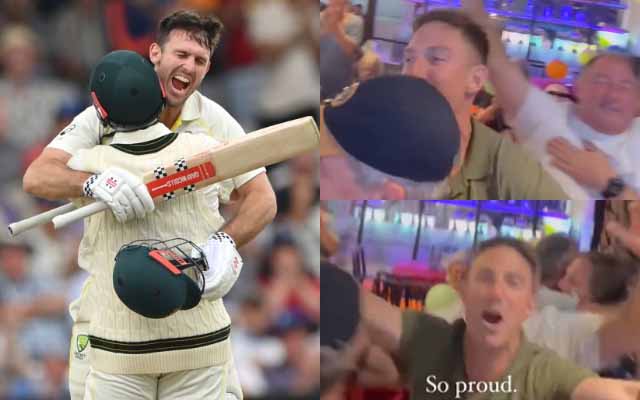 After an absence of nearly four years from Test cricket, Mitchell Marsh orchestrated a sensational comeback on the first day of the third Ashes Test. Australia's desperate situation at 85 for 4 called for a remarkable response, and Marsh delivered just that. With an audacious run-a-ball knock of 118, the all-rounder left the England pacers awestruck.
While the rest of the Australian team struggled to amass a mere 108 runs combined, Marsh's inclusion proved to be a stroke of brilliance after Green suffered a minor hamstring strain in the preceding Test. Travis Head, known for his aggressive approach in the previous Tests, seamlessly transitioned into the anchor's role. Marsh's fluent strokeplay was on full display as he punished over-pitched deliveries with elegant drives that confidently found the boundary.
After the match, Marsh remarked playfully about his century, "I had been enjoying a holiday in the UK before getting the call-up. Very unfortunate for Greeny with a very minor hamstring injury, but I feel like I've been his understudy for a few years now on a lot of tours."
Mitchell Marsh's sensational century in the Ashes Test not only earned him accolades on the field but also sparked wild celebrations among his family members. The jubilant scenes captured Shaun Marsh, his renowned Test-playing brother, and their father, cricket legend Geoff Marsh, going into a frenzy as Mitch reached his milestone. The footage captured the ecstatic father and son sharing cheers and heartfelt hugs in a lively bar in Bali.
It's Shaun's 40th in a couple of days, so all the family is in Bali, so let's hope he gets to 40," Mitch playfully shared, drawing laughter from the journalists present.
Shaun Marsh and his family celebrating the hundred of Mitchell Marsh in the Ashes.

What a beautiful video! pic.twitter.com/a2apyJDP96

— Johns. (@CricCrazyJohns) July 6, 2023
Last Updated on July 7, 2023