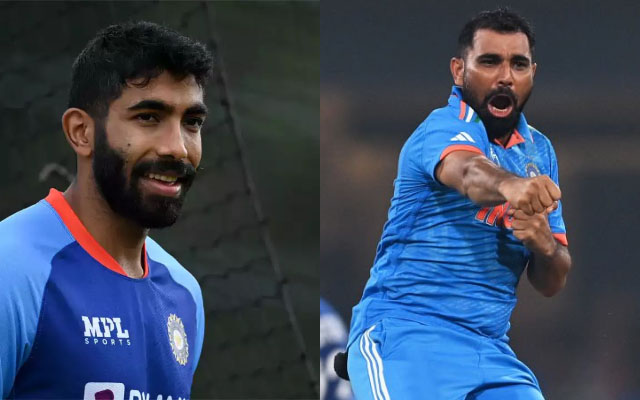 Jasprit Bumrah lauded the brilliance of his cricketing partner, Mohammed Shami, as the "Legend of the Game," who, despite his calm and unpretentious demeanor, delivered outstanding performances.
Jasprit Bumrah praised his fellow bowler, Mohammed Shami, labeling him a cricket legend. Shami's exceptional form in the ongoing ODI World Cup saw him take nine wickets in the last two matches. Initially left out of the playing XI for the first four games, Shami got his chance due to an injury to Hardik Pandya when India faced New Zealand.
Shami's remarkable performances included a five-wicket haul in Dharamsala and a four-wicket feat against defending champions England. Bumrah, when talking on Sky Sports, commended Shami for his incredible bowling, which resembled a Test match's precision and focus.
"He is outstanding," Bumrah said. "He's, you know, one of the legends of the game. I feel he has always been quite calm. He doesn't come out to be flamboyant, but he way he was bowling as if he was playing a Test match and [it] was really, really wonderful to see," said Bumrah.
"Usually we've had a lot of partnerships in Test-match cricket and I really enjoy bowling with him. So yeah, I'm really happy with the way he's going on," he added.
Bumrah's return to the Indian cricket team happened during the Ireland tour just before the World Cup. Since his comeback, he has been in outstanding form, swiftly regaining his rhythm. In the ongoing World Cup, Bumrah has already secured 14 wickets in just six matches. He attributed his success to being in a positive mental space during his rehabilitation from injury.
"I'm very happy. I came back and I realized how much I love playing the game. I was not chasing anything. Great headspace was there when I came back from the injury. So yeah, eventually I'm looking at the positives and trying to enjoy as much as you can," he concluded.
Last Updated on October 31, 2023