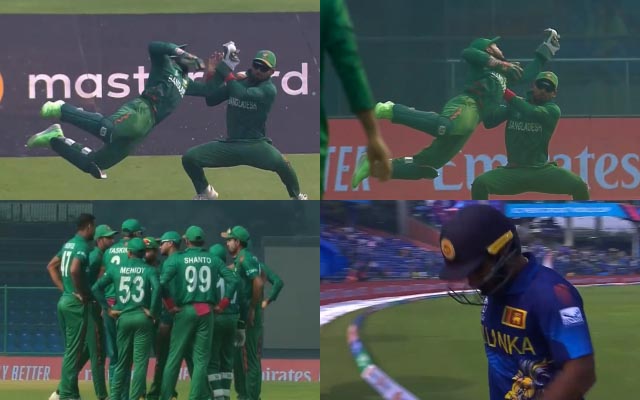 The Arun Jaitley stadium in Delhi is hosting the 38th match of the ongoing ICC Men's Cricket World Cup this year where Bangladesh and Sri Lanka are butting heads to produce one enthralling game. The Shakib Al Hasan led team won the toss and chose to bowl first. Sri Lankan captain Kusal Mendis had possibly felt optimistic enough to claim that his team would aim for a total run count of 300+, prior to the start of the game. However, the first wicket of the game saw the dismissal of Sri Lanka's Kusal Perera with a mere score of 4. The Sri Lankan batsman sought to surpass another boundary only to edge the ball right into the Bangladeshi fielder, Mushfiqur Rahim.
A video of this catch was uploaded by the ICC on social media, wherein ICC captioned the video: "S𝘰 𝘦𝘭𝘦𝘨𝘢𝘯𝘵, 𝘴𝘰 𝘣𝘦𝘢𝘶𝘵𝘪𝘧𝘶𝘭, 𝘫𝘶𝘴𝘵 𝘤𝘢𝘵𝘤𝘩𝘪𝘯𝘨 𝘭𝘪𝘬𝘦 𝘢 𝘸𝘰𝘸". The caption is in reference to a viral reel on social media at present. Mushfiqur Rahim's impressive catch was well received by his teammates, the audience and commentators, Ramiz Raja on air said, "You come to know a lot of new words on social media and I want to use a funny term that I read just the other day: What a wow" upon witnessing the incident.
The Netherlands dashed Bangladesh's aspirations of reaching the semi-finals with a resounding 87-run victory at the Eden Gardens in Kolkata on October 28th. However, Sri Lanka still has a slim chance of qualifying for the semi-finals provided they win against Bangladesh and New Zealand followingly.
Last Updated on November 6, 2023