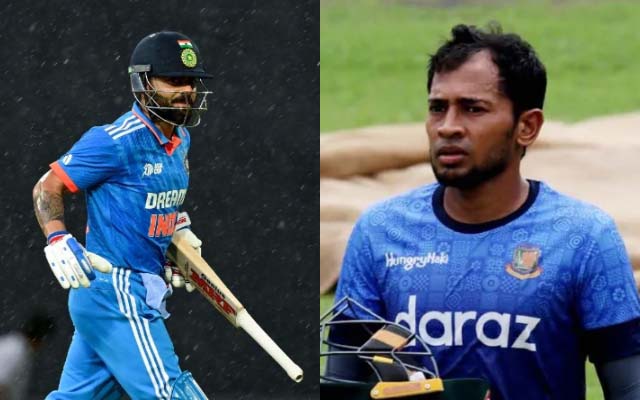 Mushfiqur Rahim prefers to avoid sledging Virat Kohli and instead encouraged his bowlers to dismiss him quickly during matches, as he believes Kohli thrives on such confrontation.
Mushfiqur Rahim, the experienced wicketkeeper-batsman from Bangladesh, admires the rivalry against Virat Kohli but has a unique approach: he avoids sledging Kohli during matches. He believes that sledging actually fires the Indian batter up and makes him perform even better.
Virat Kohli has been in top form this year, particularly in One Day Internationals (ODIs). He kicked off the World Cup with a couple of impressive half-centuries, making him the center of attention as India prepares to face Bangladesh on October 19th in Pune. Kohli has a remarkable record against Bangladesh, having scored 1097 runs in 19 ODI matches with an outstanding average of 73.13.
Rahim has shared his strategic advice with his bowlers: rather than engaging in sledging, their primary focus should be to dismiss Kohli as early as possible in the game.
"Some batters in the world love sledging and get pumped up by that. So I never sledge him because he gets pumped up by that. I always tell my bowlers to get rid of him as early as possible," said Rahim when speaking on Star Sports.
"Whenever I play against him, he always tries to sledge me every time I go in to bat because he is a really competitive guy and he doesn't want to lose any cricket match. I really love that rivalry with him and the challenge that comes with facing him and India," he added.
India is riding high with a perfect record of three wins in the ICC World Cup, positioning them at the second spot on the points table. Their goal is to further solidify their standing by defeating Bangladesh. On the flip side, Bangladesh is eager to bounce back after losing consecutive matches to reigning champions England and the current table-toppers, New Zealand.
While Bangladesh may have faced challenges early in the World Cup, they have a history of success against India. They won a one-day international series against India last year and triumphed over them in the Asia Cup just a month ago. Nevertheless, Bangladesh's coach, Hathurusingha, recognizes that the World Cup is a different stage and hopes for a strong all-around performance from his team.
Last Updated on October 19, 2023