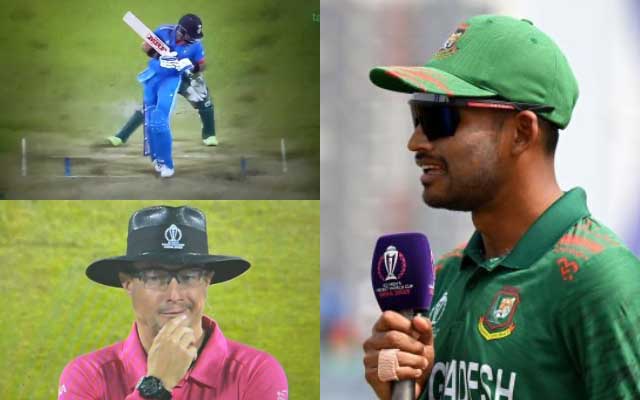 Najmul Hossain Shanto addressed the wide ball controversy involving Virat Kohli in the 2023 ODI World Cup, denying any deliberate attempt by Nasum Ahmed to prevent Kohli from achieving a century.
Bangladesh's stand-in captain, Najmul Hossain Shanto, has firmly rejected any suggestion that spinner Nasum Ahmed intentionally bowled a wide to prevent Virat Kohli from reaching a century during their ICC World Cup 2023 clash. Kohli was just two runs away from securing India's 257-run target when a leg-side delivery from Ahmed evaded a wide call by on-field umpire Richard Kettleborough, leading to speculation.
When talking in a press conference, Shanto defended Ahmed and stressed their commitment to a fair match, clarifying that there was no deliberate plan to bowl a wide ball and that their aim was to play a proper game without any intention of foul play.
"No, no. There was no such plan. It was a normal plan. No bowler had the intention to bowl a wide ball. We tried to play a proper game. It was not intentional," Shanto said.
Kohli's exceptional batting skills led India to a comfortable victory against Bangladesh, where he sealed the match in the 42nd over with an unbeaten 103 runs, marking his 48th century in One Day Internationals (ODIs) and his 78th century in international cricket. This remarkable performance not only contributed to India's win but also made history on October 19. Kohli became the fastest cricketer to reach 26,000 international runs, surpassing Sachin Tendulkar's record. Before the Bangladesh match, he had accumulated 25,923 runs in 566 innings.
Currently, Kohli ranks as the fourth-highest run-scorer in global cricket, amassing 26,026 runs in 567 innings across all formats, with 78 centuries and 134 half-centuries. He follows Ricky Ponting, Kumara Sangakkara, and Sachin Tendulkar in total runs, leaving Mahela Jayawardene behind in fifth place.
Last Updated on October 21, 2023