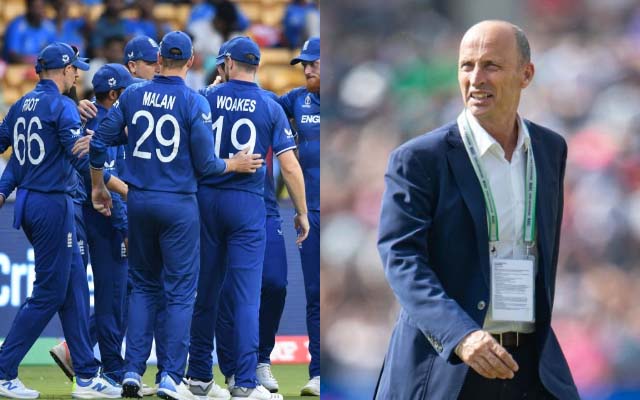 Nasser Hussain urged the England cricket team to take on the responsibility of challenging the unbeaten India in Lucknow and reminding the world of their cricketing greatness.
Former England cricketer Nasser Hussain is rooting for Jos Buttler's England team to upset India in the ICC Cricket World Cup 2023, potentially handing them their first loss of the tournament. Despite England currently being at the bottom of the points table and almost out of semifinal contention, Nasser believes in the team's skills.
In his column for The Daily Mail, Nasser Hussain encouraged England to go to Lucknow with a clear mission; to disrupt India's winning streak and remind the world of their cricketing greatness.
"The players must take the responsibility for this. I'm not a great one for cliches like playing for the badge, but that's what England have got to do now. They have to go to Lucknow on Sunday and spoil India's party. They must remind India and the world just how great cricketers they have been and still are," Hussain wrote.
After a significant loss to Sri Lanka, Hussain had raised concerns about England's approach to white-ball cricket. He underlined the need for individual responsibility, describing it as the "end of an era" for the English team.
While acknowledging the greatness of some of England's white-ball cricket legends, he also suggested that it might be time for changes in the team.
"We are talking about some of the greatest players in our white-ball history, but this has just turned out to be a bridge too far for some of them. I wouldn't have changed the side before this tournament, but I would definitely be thinking about changing it now because it does feel like the end of an era," Hussain said when speaking to Sky Sports.
"That doesn't take anything away from what this England side has achieved. We can be all doom and gloom and say, 'get rid of the lot of them' but they have given us six or seven years of absolutely brilliant white-ball cricket," he added.
India remains unbeaten in the World Cup, securing five consecutive wins and ranking second on the points table, trailing South Africa. England is set to face India on October 29 at the Ekana Cricket Stadium in Lucknow.
Last Updated on October 29, 2023