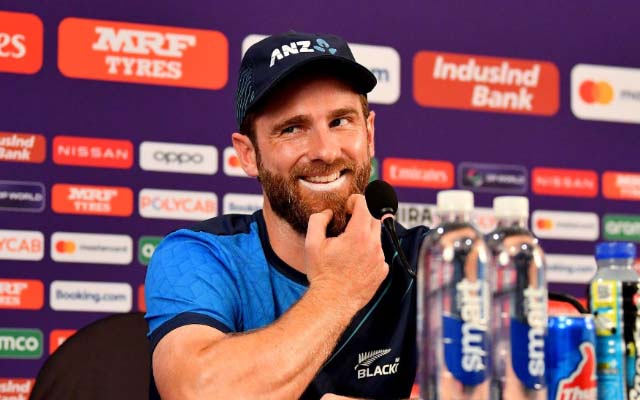 Despite New Zealand being labeled as underdogs against India in the World Cup semi-final, skipper Kane Williamson remains optimistic, highlighting that their best cricket on the day could tip the scales.
New Zealand skipper Kane Williamson remains composed despite his team's underdog status facing India in the World Cup semi-final on November 15th. India's flawless run contrasted with New Zealand's mixed performance, leading to them finishing fourth in the group stage.
When speaking to the reporters before the marquee clash, Williamson acknowledged India's excellence but held onto hope, stressing that their best performance on the day could tilt the game in their favor.
"The underdog thing.. from what you guys write, I don't think it has changed too much. But that's fine. India have been exceptional. They are one of the, if not the best teams going around, playing cricket that matches that."But we know as well, on that day if we play our best cricket, it certainly gives us the best chance. Come finals time, anything can happen," he said.
New Zealand has been a stumbling block for India, ending their campaign in the 2019 semi-final and securing victory in the WTC final in 2021.
"Every game in this tournament is a tricky one as we have seen throughout. Any team can beat anybody on that day because of the quality on both sides and also the change in conditions has an impact. For us, it's great to have got to the semi-finals stage and take a fresh approach because it does start again," the skipper explained.
In the 2023 edition, India secured a convincing four-wicket victory over New Zealand in their encounter at Dharamsala in this tournament. New Zealand aims for their third straight ODI World Cup final, while India seeks to end their ICC trophy drought since the 2013 Champions Trophy by winning the current tournament.
Williamson further acknowledged the daunting task of defeating India in the semi-final but emphasized his team's focus on delivering high-quality cricket.
"We know it's going to be a really tough challenge. They are a side that has been playing extremely well. But we also know that come finals time, everything sort of starts again, and it's all about the day. For us, as a team, the focus is pretty much on our cricket," he concluded.
Last Updated on November 14, 2023