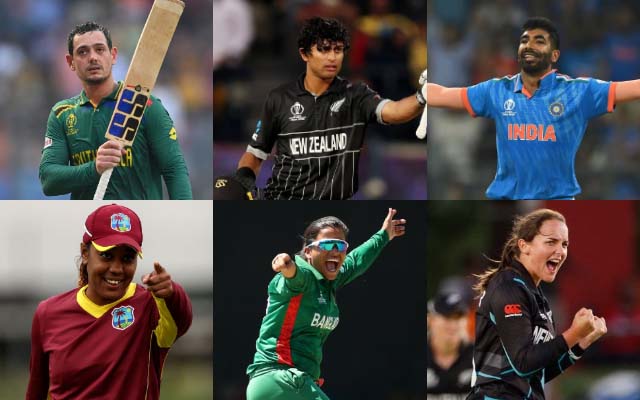 The ICC unveiled the October Player of the Month nominees on November 7th, showcasing an exciting lineup of cricket stars competing for the prestigious award.
Competing for the October 2023 ICC Men's Player of the Month Award are South African opener Quinton de Kock, New Zealand's rising star Rachin Ravindra, and India's returning fast bowler Jasprit Bumrah.
In the ongoing ICC Cricket World Cup, Quinton de Kock has been a standout performer in October. He accumulated a remarkable 431 runs during the month, with three centuries to his name. Additionally, he excelled as the Proteas' wicket-keeper by taking 10 catches and executing one stumping.
In his debut World Cup, New Zealand's Rachin Ravindra amassed 406 runs at an average of 81.20 in the tournament's first six games in October. His standout performances included an unbeaten 123 against England and another century, a brilliant 116, against Australia.
Jasprit Bumrah made a remarkable comeback from injury in October, claiming a total of 14 wickets. He has maintained an outstanding performance, boasting an impressive economy rate of 3.91 runs per over.
The shortlist for the ICC Women's Player of the Month for October features three prominent figures in the modern women's cricket scene. It includes Hayley Matthews, rising talent Nahida Akter, and the consistently impressive Amelia Kerr.
Nahida Akter, the left-arm spinner from Bangladesh, secured her nomination by delivering three wicket-taking performances, contributing to her team's victory in a T20I series against Pakistan. Amelia Kerr, on the other hand, showcased her skills in both ODIs and T20Is against South Africa, making significant contributions with the bat. Hayley Matthews from the West Indies earned her nomination for her remarkable performances in the competitive series in Australia.
The winners will be determined through voting by an independent ICC Voting Academy and cricket fans worldwide. Voting is open on icc-cricket.com/awards until Thursday, November 9th, with the results set to be announced next week.
Last Updated on November 7, 2023