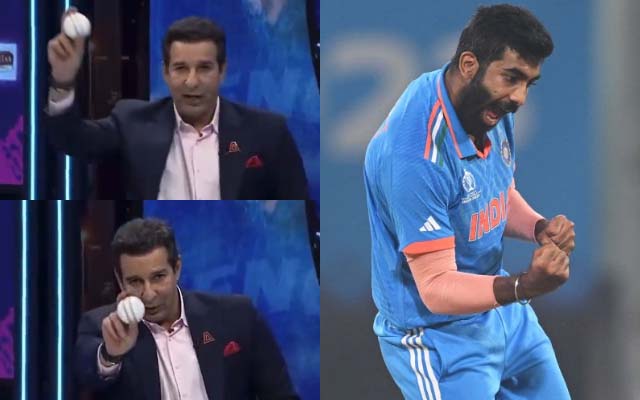 Pakistan's legendary fast bowler Wasim Akram praised India's star fast bowler Jasprit Bumrah on a post-match analysis show on the A sports.
On a Pakistani Channel A sports post-match analysis, Wasim dissected India's victory over England. He delved into Bumrah's distinctive style, highlighting how he employs his unusual action and seam placement to deceive left-handed batters. Bumrah's wide crease approach tricks the batter into expecting an incoming delivery, but his delivery moves away, catching them off guard.
He also compared his Bumrah with himself. Wasim explained, "When I used to bowl outswing to the right-hander with the new ball, I didn't have that much control but I used to use a similar angle and wrist position and take in the ball away from the right-hander, but Jasprit Bumrah definitely has better control with the new ball than myself."
Comments from the legendary fast bowler about Bumrah have gone viral in the cricket world, with Indian fans on social media echoing these sentiments and declaring Bumrah the best fast bowler currently.
Bumrah's return to international cricket just before the Asia Cup marked a phenomenal comeback, and his outstanding performance in the ongoing Cricket World Cup 2023 underscores his dominance. With 14 wickets in six matches at an impressive average of 15.07, he has skillfully spearheaded India's bowling attack, consistently taking wickets across all phases of the game.
Indian fans will be hopeful that Bumrah maintains his exceptional performance in the tournament's knockout stages.
Last Updated on October 31, 2023