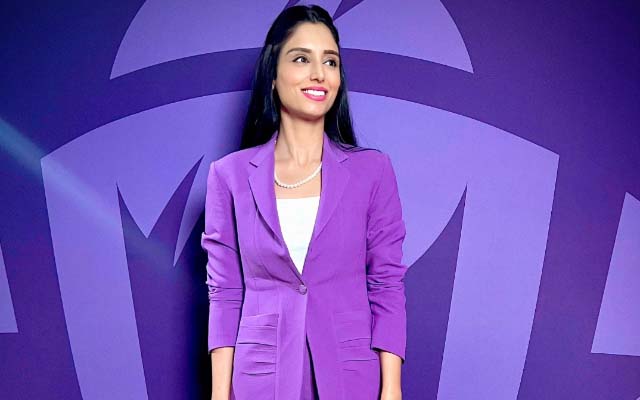 A Delhi-based lawyer has filed a legal case against Zainab Abbas, a prominent sports journalist, for her previous controversial social media posts that involved comments related to Hindu religion.
Zainab Abbas, a popular face in Pakistani sports journalism has reportedly left India as her old controversial social media posts surfaced on the internet. After a complaint was filed by Delhi-based lawyer and social media activist Vineet Jindal, it has been reported that Zainab silently flew to Dubai. She was in India to cover the ongoing World Cup news with the media fraternity.
Recently, Zainab's old comments on Hinduphobia, including tweets that abused Hindu goddesses and demeaned people of the Hindu faith, went viral on social media. Based on this, Adv. Jindal filed a complaint against Zainab in the cyber cell of the Delhi Police, requesting the lodging of an FIR under sections 153A, 295, 506, 121 IPC, and section 67 of the IT Act for making anti-Hindu comments. He shared the same on social media, tagging ICC and BCCI Secretary Jay Shah, asking them to remove her from the team of presenters.
वकील और सामाजिक कार्यकर्ता @vineetJindal19 द्वारा पाकिस्तानी प्रज़ेंटर @ZAbbasOfficial के खिलाफ साइबर सेल दिल्ली पुलिस में शिकायत दर्ज की गई है। हिंदू आस्था और विश्वास के लिए अपमानजनक टिप्पणी करने और भारत विरोधी बयानों के लिए धारा 153A,295,506,121 IPC और धारा 67 IT अधिनियम के तहत… pic.twitter.com/I16raHtJEu

— Adv.Vineet Jindal (@vineetJindal19) October 6, 2023
Update on Zainab Abbas Matter:- Complaint letter sent by @vineetJindal19 to @BCCI and @HMOIndia seeking removal of Zainab Abbas @ZAbbasOfficial as the presenter at the ICC World Cup 2023 for her derogatory and provocative posts against Bharat and Hindu Dharma.
"Athiti devo… pic.twitter.com/tiHCCRtYW3

— Adv.Vineet Jindal (@vineetJindal19) October 7, 2023
However, as the matter gained traction and heated exchanges erupted on social media, Zainab silently left the country. Jindal shared an update on X, informing users that Zainab had left for Dubai amid the controversy surrounding her posts.
Adv. Jindal's recent post stated, "Update on Zainab Abbas Matter: A significant victory as the Pakistani presenter was reportedly deported following a complaint filed with Delhi Police, Ministry of Home Affairs, and BCCI."
Update on Zainab Abbas Matter:- Big Win as @ZAbbasOfficial Pakistani presenter reportedly deported after complaint filed by Advocate & Social Activist @vineetJindal19 with Delhi Police & Ministry of Home Affairs and BCCI. Thanks to All authorities @HMOIndia @BCCI for taking… https://t.co/9HmKkWV3w7

— Adv.Vineet Jindal (@vineetJindal19) October 9, 2023
Her recent post before the World Cup revealed her anticipation for the upcoming journey, brimming with excitement and happiness. Furthermore, she expressed her fondness for art, highlighting the shared linguistic ties between the two countries.
"There was always intrigue on what lies on the other side, more cultural similarities than differences, rivals on the field but camaraderie off the field, the same language & love for art & a country with a billion people, here to represent, to create content & bring in expertise from the best in the business. Humbled to be presenting in India at the Cricket WC2023 for the ICC again, a journey away from home of 6 weeks starts now," Zianab wrote on X.
The future course of events for Zainab Abbas remains uncertain. Meanwhile, the excitement of the ODI World Cup 2023 pervades, with fans already treated to thrilling contests and fireworks. India kicked off their campaign with a resounding victory over Australia on Sunday, October 8.
Last Updated on October 9, 2023