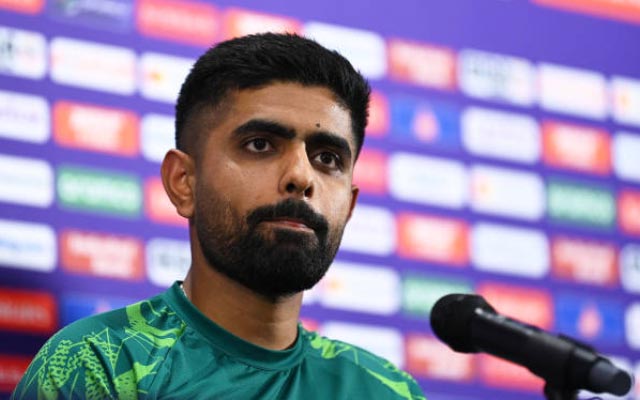 Babar Azam remains undeterred by India's flawless World Cup record against Pakistan, seeing their upcoming clash as an opportunity to end the winning streak.
Pakistan's captain Babar Azam remains unfazed by India's flawless record against them in 50-over World Cups. He sees their upcoming clash on October 14 in Ahmedabad as a chance to end the streak, expressing confidence in his team's abilities. India has won all seven World Cup matches against Pakistan since 1992. In their last encounter four years ago, Pakistan, led by Sarfaraz Ahmed, faced a defeat of 89 runs in a rain-affected match. With home advantage, India is favoured to win this time.
During a press conference, Babar Azam conveyed his team's optimistic outlook for their performance in Ahmedabad. He emphasized moving beyond the past, stating, "Records are made to be broken." Babar's focus is on the future and believes that Pakistan's performance in the India vs. Pakistan match depends on who excels on the big day.
"I don't want to focus on what has happened in the past. I want to keep my focus on what's to come. We are hoping to come up with a good performance tomorrow. India vs Pakistan depends a lot on who does well on the big day. I have belief that my boys will be able to step up on the day," he said.
"India vs Pakistan is a big game, it's a high-intensity game. But it's the best opportunity to give our best. We will continue to do what we have been doing well. We will certainly believe. Ahmedabad is a big stadium, a lot of fans will come. For us, it's a golden opportunity to perform well," Babar added.
Babar Azam led Pakistan to their first-ever World Cup win against India during the 2021 T20 World Cup, and he aspires to repeat that feat in Ahmedabad. When questioned about the fate of his captaincy based on the outcome, Babar dismissed the notion, stating that one match won't define his leadership. He remains confident, drawing from their T20 successes and past performances.
"I don't think about all these things. I don't think my captaincy will be gone because of this match… Because of one match, I didn't get the captaincy, because of one match, I won't lose my captaincy. I believe in that. We have confidence from the way we played in T20s, from the way we played in 2019. We would want to keep it simple. We want to see it as the best opportunity to execute our plans. And the main thing is about enjoying the occasion," the skipper concluded.
Last Updated on October 13, 2023