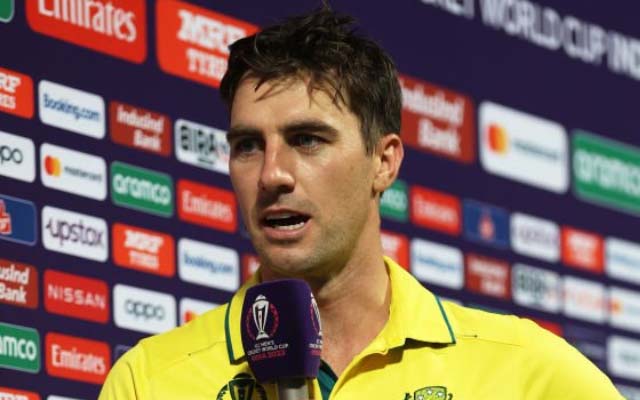 Australian captain Pat Cummins has expressed his excitement about facing New Zealand in the 2023 World Cup, highlighting his team's strong motivation to defeat their mates.
Australian captain Pat Cummins is eagerly looking forward to a showdown with both friends and rivals, New Zealand, in the upcoming 2023 World Cup clash taking place in Dharamsala on Saturday, October 28. When talking to the press, Cummins cautioned against misinterpreting the Kiwis' kind-hearted nature as a sign of weakness.
New Zealand, currently third in the points table, recently suffered a four-wicket loss to India in Dharamsala. In contrast, Australia has rebounded impressively, winning three consecutive matches after two initial losses. Although Australia hasn't played at this venue in the tournament, Cummins emphasized their strong motivation to beat their mates.
"Most of the Kiwis are pretty placid. We're pretty similar. We've played a lot of cricket with these guys, some of these guys are really good mates with our players. If anything, it makes you want to beat your mates even more. It will be intense out there," cricket.com.au quoted Cummins.
Australia holds a strong advantage in their 50-over World Cup history against New Zealand, winning eight out of 11 encounters. Pat Cummins acknowledged the challenging conditions at the Dharamsala venue, describing it as more like a Test match. He also highlighted the need for Australia to focus on the basics to succeed, recognizing that it might not be a high-scoring ground.
"It feels a bit more like a Test match, getting up in the morning and turning up here. A bit different to what we've been used to. It's a new venue, you've got to assess when you're out there what you think is going to be a good score. It might not be a 400-run innings. It's probably a ground we've got to be extra careful. It's a bit different to a lot of the other venues that we play at. But it's fine. It's the same for both teams. Maybe just be a little bit more careful out in the field, and you might have to wear a couple on the body, but that's fine," he concluded.
Last Updated on October 27, 2023