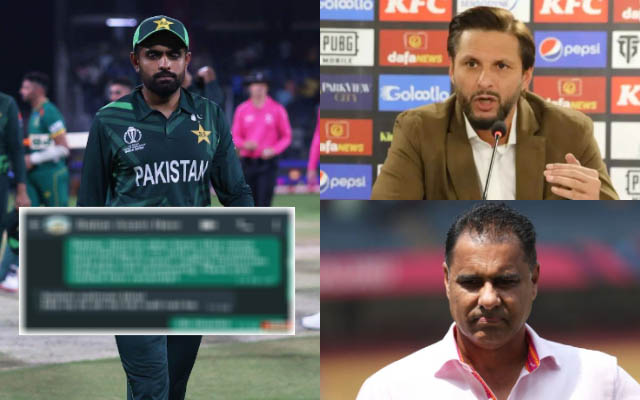 Amidst Pakistan cricket's turbulent period marked by a disappointing ODI World Cup 2023 campaign, PCB chief Zaka Ashraf has shared a screenshot of Babar Azam's chat with the PCB COO.
Pakistan's cricket woes continue, as they underperformed in the Asia Cup and the ongoing ODI World Cup 2023. Adding to the turmoil, a WhatsApp chat involving captain Babar Azam was leaked by PCB chief Zaka Ashraf, intensifying the situation. Furthermore, former Pakistan wicketkeeper Rashid Latif disclosed that Babar had been attempting to reach out to Ashraf, but the chairman hadn't responded.
"In the Pakistani media, many things are happening. Perhaps they are false news. I will provide you with the true news, which was kept on hold. Babar Azam has been trying to contact the chairman for the past two days, but they are not responding. He is messaging Salman Naseer (Chief Operating Officer), and he is messaging Usman Walha (Director of International Cricket)," Latif said in an interview.
In response to the allegation, Ashraf took the unusual step of allegedly leaking a WhatsApp chat, reportedly between Babar Azam and Pakistan's Chief Operating Officer, Salman Naseer. He refuted claims that Babar had attempted to contact him, stating, "He's never given me a call," and emphasized that the team's captain should liaise with the chief operating officer or the director of international cricket.
They leaked Babar Azam's private WhatsApp chats?
Pakistani players ko milta kya hai ko unse itni expectations rakhte ho? This is disgusting, he still has three matches to play in this World Cup pic.twitter.com/8eHSG2oygT

— Sushant Mehta (@SushantNMehta) October 29, 2023
Former fast bowler Waqar Younis voiced his disapproval after alleged WhatsApp chats of Pakistan's skipper Babar Azam surfaced during the World Cup 2023. Waqar, currently part of the commentary panel for the tournament, criticized the situation and urged people to value Babar as a crucial asset to Pakistan cricket, rather than exacerbating the controversy. His message was clear on 'X': "Please leave @babarazam258 alone. He's an asset of Pakistan Cricket."
Responding to the controversy, ex-Pakistan all-rounder Shahid Afridi also criticized Latif for divulging personal chats, deeming it "obnoxious" and detrimental to the country and its players. Afridi also questioned the motive behind revealing private messages on live television and suggested the controversy may have been sparked to counter previous remarks by Latif regarding Babar's unanswered calls to the chairman.
GHATYA TAREEQ BOLTE HAIN BHAI pic.twitter.com/OzdDiC03fV

— SID RajPut 🇵🇰 (@IMSID_45) October 30, 2023
Pakistan's ODI World Cup 2023 campaign, which started with two consecutive victories, has taken a nosedive with four consecutive losses, significantly diminishing their semi-final prospects. Amid uncertainties about Babar's captaincy future, he faces the challenge of leading his team against Bangladesh at Kolkata's Eden Gardens on October 31.
Last Updated on October 30, 2023