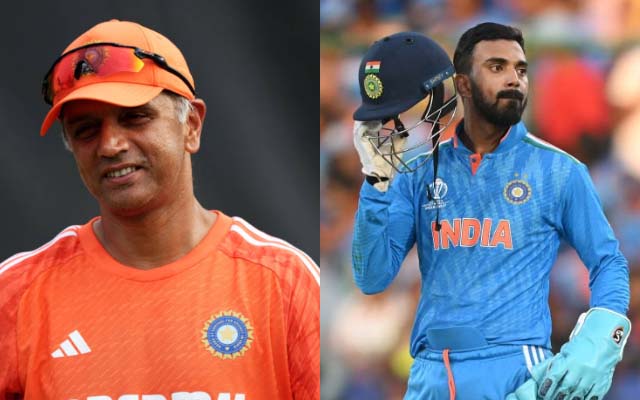 Former wicketkeeper-batter Rahul Dravid, commended KL Rahul's wicketkeeping skills in the World Cup, acknowledging Rahul's non-regular role as a wicketkeeper.
Rahul Dravid, the head coach of Team India, commended KL Rahul's outstanding dual role as a wicketkeeper and batsman in the ongoing ODI World Cup 2023. Despite returning from a significant injury break, Rahul has been in exceptional form and contributed significantly to India's 50-over campaign.
Dravid, who has had his share of wicketkeeping experience, praised Rahul's wicketkeeping skills, acknowledging the challenges of excelling in a role he doesn't regularly undertake.
"It's certainly not easy and I think he is doing a fantastic job of it. I thought Rahul's really kept superbly in this tournament and then batted really well whenever he's got the opportunity to do that, especially in the first game. But yeah, I think it is challenging, because for someone like him who, and having had that experience myself, he's not someone who keeps regularly at all," Dravid said when talking in a pre-match press conference.
"He's probably kept a little bit more than I have. As a youngster, he kept probably up to his under-19 days, and he's kept in a few T20 games, as well for Karnataka and all that," he added.
Dravid also acknowledged the challenges KL Rahul faced in his remarkable comeback after a lengthy injury hiatus, specifically in the context of returning as a wicketkeeper in the 50-over format with limited prior game time.
"So, he kept a little bit more than I did, but certainly not easy, considering he was also out with injury for four or five months. When we first decided that he would keep and we wanted to have that kind of option with him as one of the options of being able to keep in and bat in the middle order and we thought we would build him up to this tournament by giving him game time and building him up. But unfortunately, due to his injury, he actually couldn't keep for a while," Dravid said.
"The way he's come back, the way he's worked hard, even in his injury, he worked really hard. When he started getting back to skills, spent a lot of time with the wicket-keeping, worked really hard on it. So yeah, I thought he's kept really well in this thing. And it's been really good to see. It just certainly gives us a lot of confidence in him and his ability," he further added.
Last Updated on October 22, 2023