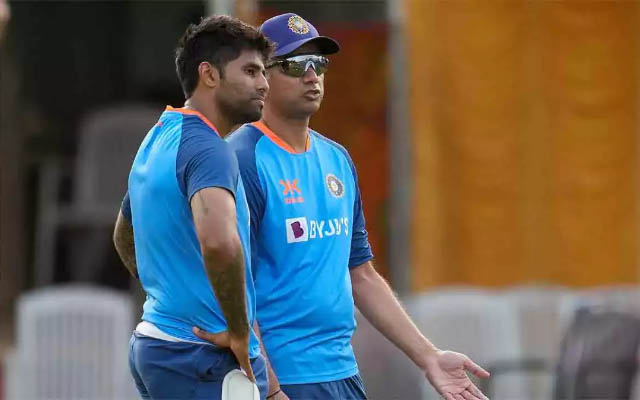 Rahul Dravid, the head coach of Team India, reaffirmed his support for the dynamic Suryakumar Yadav, ensuring his place in the upcoming World Cup squad.
Despite concerns about Suryakumar Yadav's ODI form, Team India's head coach, Rahul Dravid, has once more expressed his confidence in the flamboyant batter, securing his spot in India's World Cup squad. Suryakumar has amassed 537 runs at a modest average of 24.41 in his 27 ODIs so far, prompting scrutiny.
The forthcoming three-match ODI series against Australia presents a crucial opportunity for him to prove his mettle before the mega ICC event. Dravid has confirmed Suryakumar's participation in the first two Australia ODIs, with key players like Rohit Sharma, Virat Kohli, and Hardik Pandya set to return for the third match.
Suryakumar faces stiff competition from Ishan Kishan and Shreyas Iyer for a spot in India's middle order, with the latter two currently holding an advantage. Furthermore, the batter has struggled against Australia in ODIs, recording three ducks in as many matches earlier this year in March.
"We have picked our team for World Cup, Surya is in it. We have completely backed him. He will certainly get the first two games," Rahul Dravid said in a press conference before the first ODI.
"We want to get Virat Kohli and Rohit Sharma physically and mentally the shape they want to be in before the first game of the World Cup," he added.
In terms of batting order versatility, Dravid hinted at the possibility of India utilizing Ishan Kishan as an opener for the initial two ODIs. He emphasized the team's preference for having World Cup-bound batters occupy their regular positions. Nevertheless, Dravid acknowledged Ishan Kishan's flexibility, capable of batting at both the top and middle-order, which could be advantageous, thereby leaving open the possibility of Kishan opening in the first two matches of the series.
Last Updated on September 21, 2023