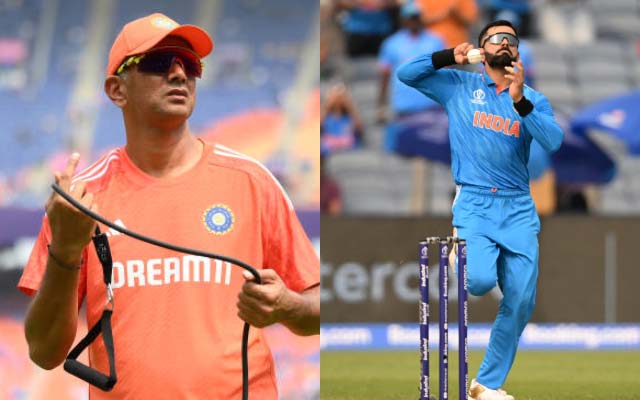 India's coach, Rahul Dravid, remains confident in his bowlers, even in the absence of Hardik Pandya. Dravid expects the "wrong-footed, in-swinging menace" to shine with a few crucial overs if the situation demands it. He also pointed out potential alternative options, mentioning, "We do have the option to call upon our wrong-footed, in-swinging menace [Virat Kohli]. And with the crowd behind him, I'd back him for a couple of overs there in a few wickets. The crowd was demanding his bowling in the last game."

South Africa's captain, Temba Bavuma, has drawn attention to India's five-bowler attack, sensing an opportunity to put pressure on the Men in Blue. India's bowling attack, including Jasprit Bumrah, Mohammed Shami, Mohammed Siraj, Kuldeep Yadav, and Ravindra Jadeja, has performed exceptionally well since Hardik Pandya's injury in Pune. However, Dravid acknowledges the vulnerability, stating, "India is just one off day for any of the bowler away from feeling the heat."

In response to Bavuma's comments, Dravid noted, "The fact is that we will not be in a position to have a proper sixth option." Yet, he remains optimistic, saying, "So, we have responded really well to that challenge. Yes, of course, we probably won't have that sixth bowling option in these games." He emphasized that the team has coped admirably in games without a sixth-bowling option.

As India searches for a sixth bowler, batsmen have stepped up in the nets. Virat Kohli has taken the lead, not only practicing in the nets but also dedicating time to hone his bowling skills during his pre-match routines. In addition, Rohit Sharma and Shubman Gill have joined in, further demonstrating the team's adaptability.
Currently, Kohli appears to be the favored choice for the sixth-bowling role, with Dravid mentioning that he was close to getting an over in the last game due to crowd demand. India's response to the bowling challenge highlights their resilience and readiness as they prepare for upcoming matches.
Last Updated on November 5, 2023