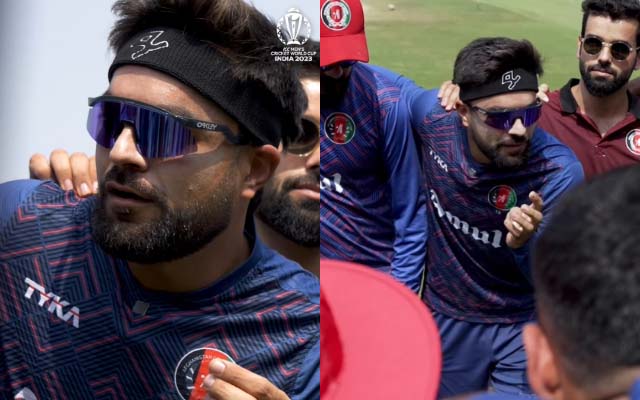 Before their game against Sri Lanka, Afghanistan's Rashid Khan delivered an inspirational speech, urging his team to focus on fighting every ball, resulting in a clinical victory.
Afghanistan's star spinner, Rashid Khan, delivered an inspirational speech that went viral after their memorable victory against Sri Lanka on Monday, October 30, in Pune. In a video posted by the ICC, he was seen delivering a motivational speech to his team in a huddle before their game against Sri Lanka.
The Afghan team responded brilliantly to their marquee spinner's inspirational talk, delivering a clinical performance throughout the game. They secured their third victory in the tournament by convincingly defeating Sri Lanka by 7 wickets. "Fight every ball" was Rashid's mantra to his team, and they responded beautifully, showing spirited performance after winning the toss and electing to bowl first. The Afghan bowlers restricted Sri Lanka to 241 runs within 50 overs.
"We have to remember three things. firstly we have to fight every ball, whether we are batting, bowling, or fielding. We only have to focus on how to fight it out with the other team. Don't focus on whether we will win or not, let's focus on finer details instead, these finer details will paint the bigger picture," Rashid said to the team.
Rashid Khan further emphasized the importance of effort over results for Afghanistan's cricket team. He acknowledged the hopes and prayers of their supporters and encouraged his team to stay positive and maintain a cheerful spirit.
Fazalhaq Farooqi stood out as Afghanistan's top bowler, securing four crucial wickets for just 34 runs. He received excellent support from Mujeeb, who claimed two wickets for 38 runs.
The Afghan batters displayed remarkable composure and maturity, successfully chasing down 241 runs in under 48 overs, even after losing Gurbaz in the first over. Afghanistan is experiencing a coming-of-age tournament as they aim to shed their underdog label and establish themselves as a force to be reckoned with in world cricket. They will face the Netherlands in Lucknow on November 3rd.
Last Updated on October 31, 2023