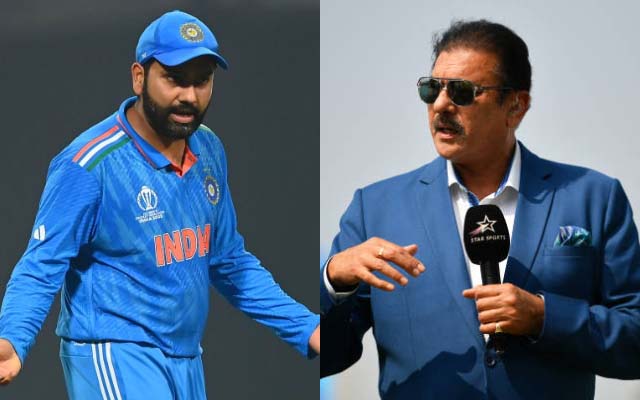 Former India all-rounder Ravi Shastri warned Rohit Sharma and the Indian cricket team that if they fail to secure the ICC trophy this time, the wait for another chance might extend to three more World Cups.
Rohit Sharma-led India has dominated the ODI World Cup, winning all eight matches and securing a top spot in the points table as tournament hosts. With an exceptional bowling performance, they head to the semi-finals against New Zealand in Mumbai.
The former all-rounder and World Cup winner, Ravi Shastri, believes it's India's prime opportunity to clinch the trophy after 12 years. Despite praising their current form, Shastri issued a caution to Rohit and the team, asserting that failure to secure the title this time might lead to a prolonged wait.
"This country is going mad. The last time they won it was 12 years ago. They have an opportunity to do it again. The way they are playing, this is probably their best chance. If they miss out this time, they would probably have to wait another three World Cups for even thinking of trying to win it. The pool of players are such the 7-8 players are at their peak," Shastri said when speaking on the Club Prairie Fire podcast.
"This could well be their last World Cup. The way they are playing, given the conditions, they have got the team to win it," he added.
India's bowling side, led by the formidable trio of Jasprit Bumrah, Mohammed Shami, and Mohammed Siraj, alongside spin maestros Ravindra Jadeja and Kuldeep Yadav, has been the standout feature in the ODI World Cup.
Shastri attributed this success to years of collaboration, underlining the consistency and strategic understanding developed over time. He further hailed the current Indian bowling attack as the best since the inception of white-ball cricket.
"It is extraordinary and it has taken time, it has not happened overnight. They have been playing with each (of them) for four to five years. Siraj joined the party three years ago. They know the kind of areas to hit on a consistent basis. It is more about consistency and getting the ball in the right areas," Shastri said.
"In this World Cup, they have bowled hardly any short balls. if there is a short ball, it is used as a surprise weapon. 90 percent of the time they have been targeting the stumps like you must do in India hitting those three-quarters lengths. It is the best attack in 50 years ever since white-ball cricket started," Shastri concluded.
Last Updated on November 12, 2023