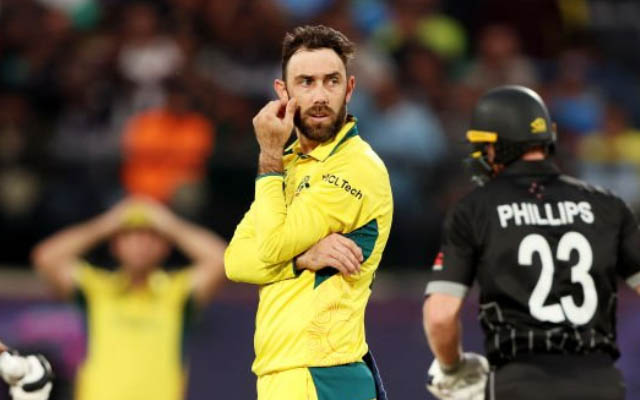 Reports suggest a devastating setback for the Australian team as a bizarre golf cart incident has resulted in Glenn Maxwell's absence from the upcoming Cricket World Cup clash against England.
Reports suggest that Australian cricket star Glenn Maxwell will be absent from the forthcoming match against England due to a concussion sustained in an unusual golf cart accident. Maxwell's misfortune stemmed from a slip off the back of the cart, resulting in a head injury that will keep him out of the Saturday match. While he is reportedly recovering well, this development comes as a significant setback for the Australian team, given his recent stellar performance at the World Cup.
Maxwell had bounced back from a series of subpar showings in the early matches of the 2023 World Cup, notably setting a new record for the fastest century in World Cup history by achieving a remarkable 40-ball century against the Netherlands at the Arun Jaitley Stadium. He has been a standout performer, amassing 196 runs in six matches at an impressive average of nearly 40 and a brisk strike rate of 148.48. Maxwell has also contributed with his right-arm off-spin, taking four wickets from 42.3 overs bowled.
Earlier, in an interesting video shared by The Grade Cricketer on X, Australian leg-spinner Adam Zampa discusses the 'Jesse Ryder Cup' golf tournament that the team was planning during a one-week break after their match against New Zealand. It is speculated that Maxwell may have been injured during this event.
Nevertheless, Australian fans are hoping for Maxwell's swift recovery. This injury also possibly eliminates the challenging dilemma for Australian selectors, sparing them from deciding whether to exclude Marnus Labuschagne or reinstate Marcus Stoinis in the lineup.
Australia currently holds a record of four wins in the league round out of six matches, but their place in the semifinals is yet to be confirmed. Following the England match, they are scheduled to face Afghanistan on Tuesday and Bangladesh on November 11.
Last Updated on November 1, 2023