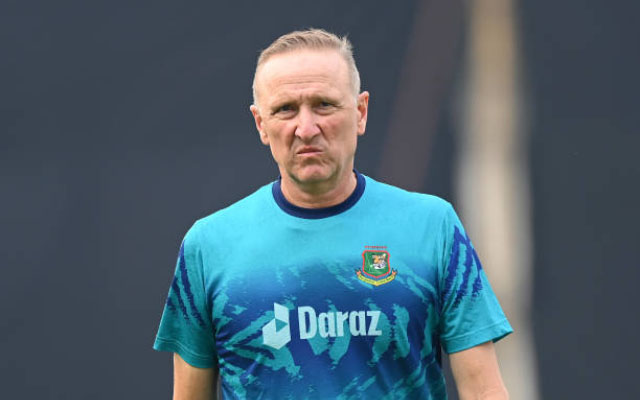 Bangladesh's pace bowling coach Allan Donald has decided to quit his position following his row with the team's captain Shakib Al Hasan over the latter's 'timed-out' appeal.
Bangladesh's coach Allan Donald is set to quit coaching the team after the ICC Men's Cricket World Cup 2023. The decision seems to be attributable to Donald's public row with the Bangladesh captain, over the latter's appeal to the umpire in the clash between Bangladesh and Sri Lanka during the 38th match of the season on November 8. Hasan had appealed to the umpire to have the Sri Lankan batsman Angelo Mathews removed from the field because the batsman had not made it to his position within the allotted time, a judgment that was later proved inaccurate by Mathews himself. The Bangladesh's pace bowling coach expressed his disapproval publicly.
READ MORE | Bangladesh's Coach Expresses His Contempt on Angelo Mathews' Dismissal
In a report from Cricbuzz, Coach Donald had allegedly informed the team about his decision to step down during a meeting. "Yes, he ( Donald) informed us that he will not carry on with us after this World Cup during the team meeting," informed a top official from the Bangladesh Cricket Board to Cricbuzz whilst requesting anonymity.
BCB reportedly sought clarification from Allan Donald following his public criticism of Angelo Mathews' timed-out dismissal while being part of Bangladesh's coaching staff. The legendary pacer's comments were labeled as disappointing, emphasizing that discussing team decisions publicly breached the code of conduct.
"He could have given his personal views at a later time. He is part of the team management so when the team takes a decision, speaking about it publicly is a breach of the code of conduct. He could have spoken about it within the team or he could have spoken directly to the player. He could have informed the BCB, but not in public," an official said when talking to ESPNcricinfo.
Unfazed, Donald responded to BCB seeking an explanation, stating, "That's all okay with me. As far as I am concerned, the explanation was in the news today!"
In pursuit of a modest target of 230 runs, Bangladesh collapsed within 43 overs, only reaching a meager total of 142, effectively signaling the end of their World Cup campaign. Unfortunately, they failed to secure a spot in the semifinals.
Last Updated on November 10, 2023