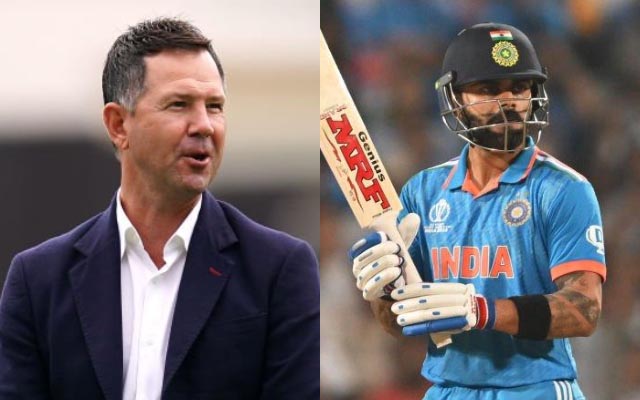 Former Australian captain Ricky Ponting lauded Indian batting sensation Virat Kohli as the greatest ODI cricketer he's witnessed.
With a staggering record of 13,437 runs and 48 centuries, Kohli's exceptional form in the initial half of the 2023 World Cup stands out. Kohli currently ranks as the fifth-highest run-scorer, amassing 354 runs in five matches at an outstanding average of 118 and a strike rate of 90.53. His standout performances include a crucial 85 in India's tournament opener against Australia and impressive knocks of 103* and 95 in their recent wins against Bangladesh and New Zealand.
Ponting, speaking to the ICC, commended Kohli's exceptional tournament start while suggesting that India would benefit even more if he maintained his brilliance in the latter stages of the World Cup.
"Virat is Virat, he's the best 50-over player that I've ever seen. His record speaks for itself and with that being said, he's got off to a great start to this tournament. But I reckon India would probably rather him going better in the back half of the tournament than the start," Ponting said.
Kohli's splendid form has played a pivotal role in India's unbeaten streak of five games in their pursuit of a third ODI World Cup title. The 34-year-old boasts an impressive track record in 50-over World Cups, tallying 1,384 runs at an average of 55.36, featuring three centuries.
Ricky Ponting also showered praise on another contemporary star, Joe Root, who has been the linchpin of England's middle order across formats. Root, with a stellar ODI average of 48.27 and 16 centuries, made a strong start to the 2023 World Cup, but his recent performances have seen a dip, raising questions about his consistency.
"Joe Root has elevated his game to another level across all three formats. What he has been able to do in the Test game has been outstanding and that's flown into his ODI batting. He holds a pretty good spot in England's middle order and when you talk about leaders needing to stand up, he is one that England need to stand up and make big runs in the backend of this tournament if they are going to go any further," Ponting added.
England's World Cup campaign has seen a dip, with three consecutive losses after an initial 1-1 start. Their title defense is now at stake as they face India on Sunday, October 29.
Last Updated on October 29, 2023