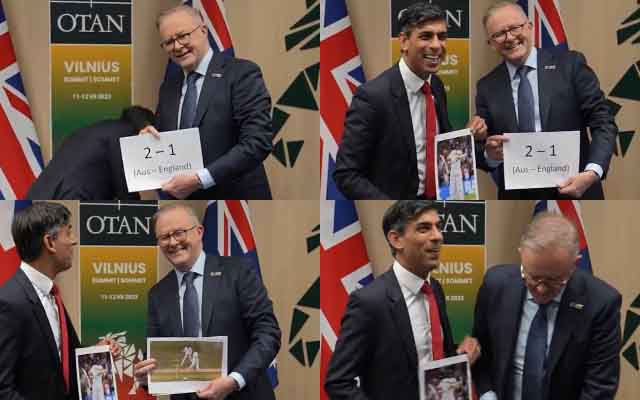 Rising tensions took the back seat when English Prime Minister Rishi Sunak and his Australian counterpart Anthony Albanese exchanged fun jabs over their Ashes standings at the NATO meeting in Ludhiana.
Albanese jokingly presented a piece of paper to Sunak with the current score '2-1′(Australia-England) written on it. To this, Sunak responded with a photo of Mark Woods and Chris Woakes celebrating after their very recent victory in the Third test of the series.
Albanese then held up a photo of England wicket-keeper Jonny Bairstow, who was involved in a controversial stumping during the second test, playfully expressing, "I was going to be really provocative".
The England Prime Minister humorously countered with a reference to Australia's ball-tampering scandal of 2018, saying "I'm sorry I didn't bring my sandpaper with me."
The two politicians shared a good laugh while posing for photos.
Albanese took to Twitter and shared this fun video, captioning it 'And of course we discussed the #Ashes'.
Watch the video here.
And of course we discussed the #Ashes pic.twitter.com/FeKESkb062

— Anthony Albanese (@AlboMP) July 11, 2023
Last Updated on July 12, 2023