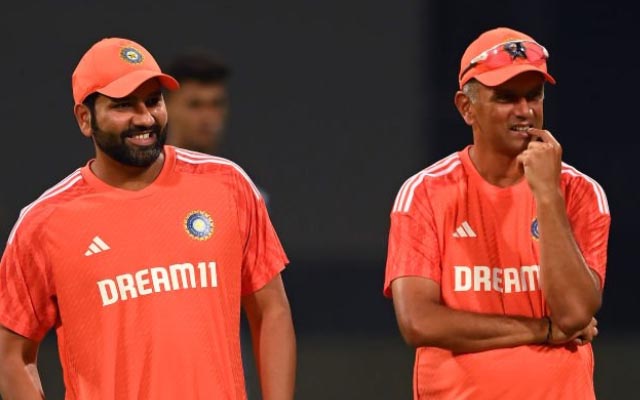 Rohit Sharma emphasized winning the 2023 World Cup as a tribute to Rahul Dravid, highlighting Dravid's impact on Indian cricket and the team's determination to secure the trophy in his honor.
Rohit Sharma, India's captain, stressed the team's commitment to winning the World Cup for coach Rahul Dravid, who previously missed clinching the trophy as a player. Despite Dravid's past near-misses in the 2003 final and a tough 2007 campaign, his impactful role as head coach propelled India to their fourth World Cup final.
Ahead of the crucial final against Australia, Rohit lauded Dravid's significant influence when talking to the media, highlighting his role in providing clear direction to the players.
"His [Dravid's] role has been absolutely massive in terms of getting that clarity which I keep talking about," said Rohit.
"It's one thing for me to think about and another thing for the coach to not agree to certain things. Clearly, looking at how Rahul bhai himself has played his cricket and how I play these days is quite contrasting. For him to agree and give me that freedom and liberty to go and play like that says a lot about him," he added.
Rohit also highlighted how the head coach supported the players, particularly after India's loss in the 2022 T20 World Cup semi-final. He praised Dravid's resilience and communication with the team during challenging moments, highlighting the coach's significant role in guiding the players on the desired style of play.
Recognizing Dravid's immense contribution to Indian cricket, the skipper urged the team to secure the coveted trophy as a tribute to Dravid's impactful legacy.
"And obviously what he has done for Indian cricket is massive. He too feels that he wants to be a part of this big occasion. It's for us to do it for him," Rohit concluded.
Last Updated on November 19, 2023