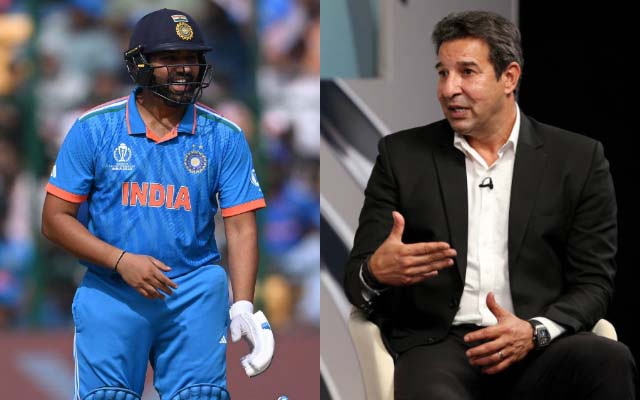 Wasim Akram hailed Rohit Sharma as unparalleled among batting giants like Virat Kohli, Joe Root, Kane Williamson, and Babar Azam, highlighting Rohit's unique ability to make batting appear effortlessly easy.
In the ongoing ICC Cricket World Cup 2023, India's captain Rohit Sharma has been a standout performer, leading the run charts with over 500 runs at a remarkable strike rate of 121.5 and an impressive average of 55.89. When speaking on A Sports, renowned fast bowler Wasim Akram lauded Rohit for his unique ability to change the game's tempo, asserting that currently, there's no player like him globally, elevating him above stalwarts such as Virat Kohli, Joe Root, Kane Williamson, and Babar Azam.
"They (India) scored 91 in first 10 overs. The game was over then. Rohit Sharma scored 61 off 54, eight fours and two sixes. I don't think there's a player like him in the world today. We talk about Emperor Kohli, Joe Root, Kane Williamson, Babar Azam but this guy is different. He makes batting look so easy. Be any situation, any bowling attack, he plays his shots comfortably. He changes the tempo of the game," said Akram.
Rohit's record-breaking feat of consecutive 500-run ODI World Cup campaigns further accentuates his dominance. Along with Shubman Gill, Rohit forged a century partnership, laying the foundation for India's imposing 410/4 in 50 overs against the Netherlands.
Shoaib Malik, in agreement, highlighted Rohit's ability to dominate all opposition bowlers, distinguishing him from other top batters.
"He's the kind of batter who will pummel all five bowlers (in the opposite team). The names that Wasim bhai has taken, they aren't going to target all five bowlers – they may target 2-3 but not Rohit," Malik said.
On November 12th, India secured a 160-run victory, bowling out the Netherlands for 250 in 47.5 overs, maintaining an undefeated streak in the league stage.
Last Updated on November 13, 2023